It is important for every operation to know when to replace their forklift tires and what signs indicate the need for new tires. If they are replaced too soon, you are not getting your money's worth and decreasing operational profitability. However, replacing forklift tires after the wear limit will result in any of the following:
Operators noticing lower speeds and reduced ride comfort
Increase in maintenance costs
A lower ground clearance and reduced lifting height on the forklift
Loss of load capacity, causing accelerated wear and overheating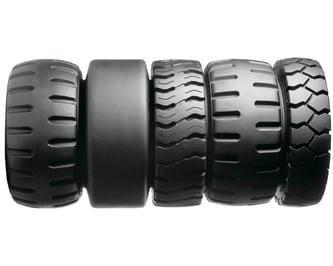 The first reference to look at when looking to replace lift truck tires is the forklift tire operator's manual, provided by your forklift tire manufacturer. This is a helpful tool that covers wear limits and the proper time to change your tires. Along with following the manual, there are additional signs that show when it is time to replace old forklift tires.
Wear Indicator Bar
There is a significant amount of forklift tires that come with a wear bar molded into the tire's sidewall. This indicator becomes visible as the rubber tread wears out – a clear sign that your forklift tires need to be replaced.
Manufacturer Name
Looking for a quick eyeball test to determine if tire replacement is needed? Most tires have the name of the manufacturer molded into the sidewall. Generally speaking, when the tire wears to the top of the nameplate, it should be replaced.
Tire Deformities
A forklift tire needs to be replaced when there are unusual appearances on your tire. These appearances include:
Chunking & Tearing – When pieces of the forklift tire are falling off or there are parts tearing.
Splits or Cracks – When radial splits or cracks appear on the sidewall of the tire.
Non-Round Spots – When flat spots appear on the forklift tire.
Not 100% sure that your tires need replaced? Contact Fallsway today for a free forklift tire inspection by a forklift expert.
So your forklift tires do need replaced…
Next, you need to choose the right type of forklift tire for your machine. Learn what you need to consider when deciding what type of forklift tire suits your application and needs.
Originally published 10/1/2018
Updated 5/16/2019