At Fallsway we are committed to keeping your equipment up and running at the lowest total cost. This is why we offer a complete forklift support package including forklift repair and service, hauling and delivery services, forklift training, forklift parts and accessories, and much more! Get familiar with our award-winning forklift support in today's blog.
Forklift Service and Repair
When it comes to servicing your forklifts, we know that you want the job done right the first time. That's why we employ some of the highest trained technicians in the industry. With this experience comes the knowledge and expertise to solve any issue. We understand that when a forklift goes down our job is to get it back up and running as fast as possible. That's why we have a large mobile fleet of fully stocked service vans allowing us to come to you for most repairs. On average, we have a 4-hour response time for downed forklifts.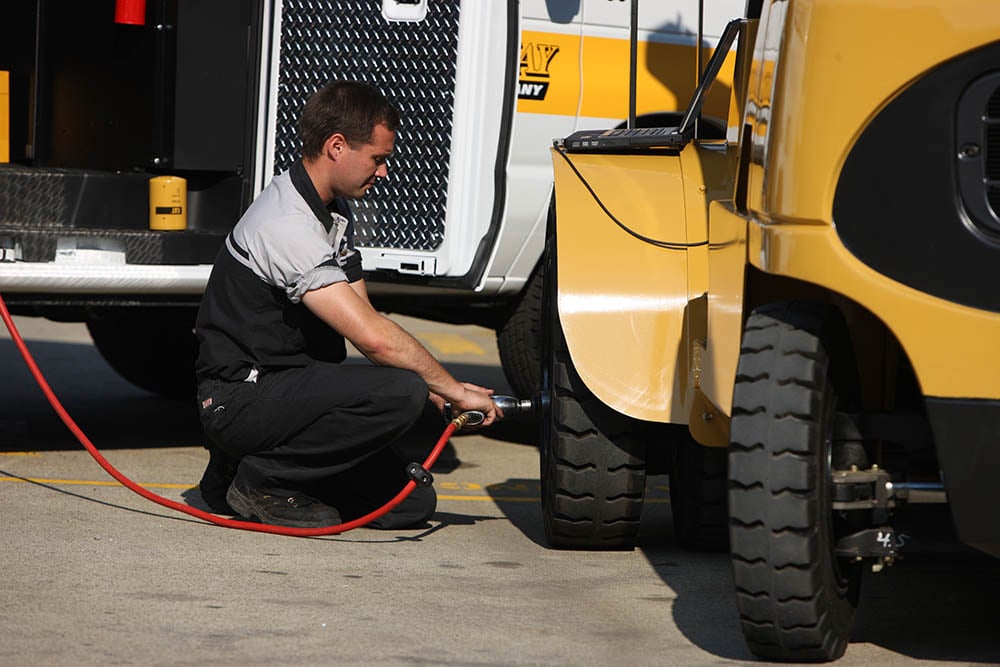 We offer service contracts for preventative maintenance and total maintenance for forklifts. Preventative maintenance is a flat rate charge for a scheduled inspection and lubrication program. The flat rate will cover the travel and labor portion of the maintenance, but not the parts themselves. We offer a follow-up letter and quote for any additional items that would need attention. Our total maintenance contract offers a complete maintenance and repair package for your forklift fleet. This contract is a flat rate predetermined monthly charge that would handle any normal repairs and also any scheduled maintenance that may be needed on the lift truck. This contract is tailored to your operation and equipment needs and all repair risks are the responsibility of Fallsway.
Click the link if you are looking to get familiar with our forklift service and repair capabilities.
Forklift Hauling and Delivery
Flexibility is key and that's why we employ a full line of DOT certified truck drivers to ensure your equipment arrives when you need it. We have the capabilities of hauling up to 45,000 lbs with the ability to unload or ground load as needed, eliminating any need for a dock. We service forklifts in 26 counties in Ohio, 2 counties in PA, and 2 counties in West Virginia as well.
Are you interested to see if we cover your county? Use this link to find your local forklift equipment service provider.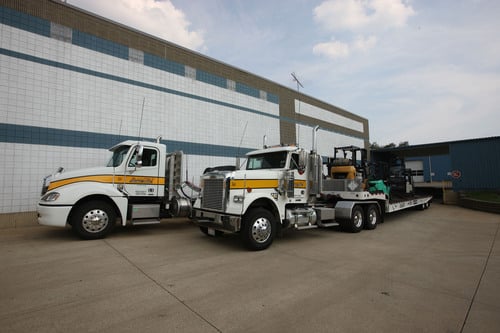 Forklift Parts and Accessories
Another aspect of being a complete forklift equipment service provider is by offering high-quality forklift parts. At Fallsway, we put the customer first, and the best way of doing that is by providing parts as quickly as possible. Our Parts Department works to keep your forklifts running longer, at maximum efficiency, while also providing exceptional service. We understand that every situation is different, that's why we work with you to find the most optimal solution. Our Parts Department will customize your experience while also responding quickly to any order or quote requests. Once you work with us once, we have your order history and reporting saved so any future orders are as easy as a phone call.
Some of the services our Parts Team provides are forklift parts, forklift tires, forklift battery and chargers, forklift attachments, and much more! We also offer Parts for our other divisions including truck equipment, emergency equipment, towing equipment, and unloader equipment. Click here to read on.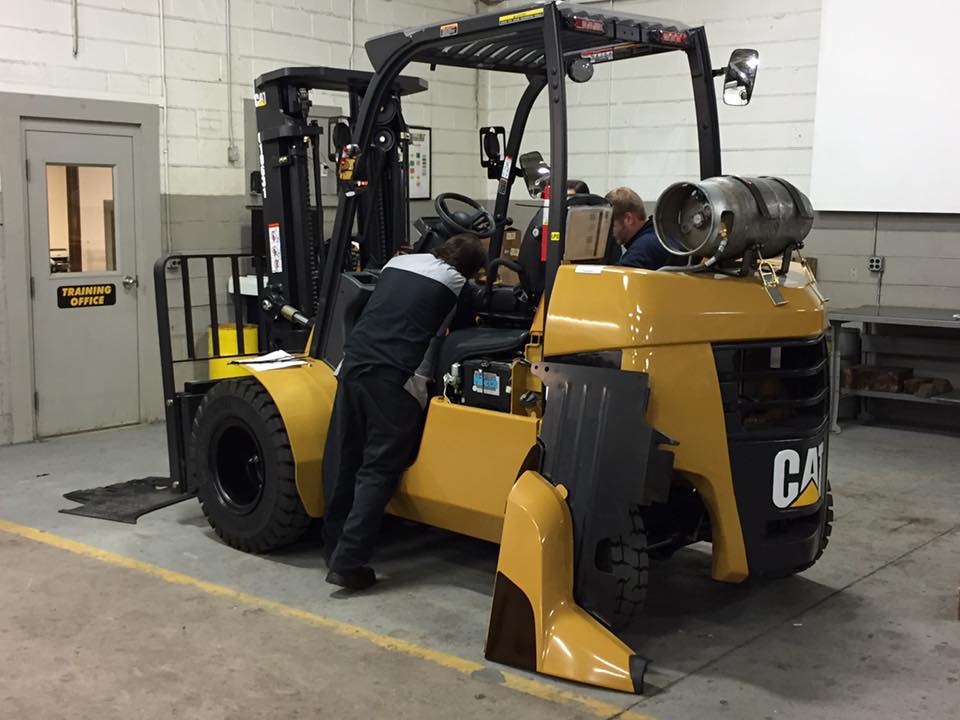 Forklift Training
One way we help your business run smoothly is by offering forklift training courses. Our training programs are available to provide your operators with the fundamental knowledge of lift trucks addressing key issues such as:
Lift Truck Fundamentals

Stability, balance, and capacity

Pre-operation inspection / post-operation inspection

General rules of the "road"

Load handling techniques

Proper Refueling Practices

Battery Maintenace
We have a proven track record of reducing accidents and by meeting all OSHA forklift safety requirements we have you covered. We have various options to meet your forklift training requirements including:
Classroom training offered at our Akron location on the first Tuesday of every month
On-site training is offered and we will drive out to you and perform training at your location
Online training is also available, save time and enjoy the convenience of working around your schedule
At Fallsway we are here to help. If you have any questions about our blog, or just want to get in touch, contact us below.