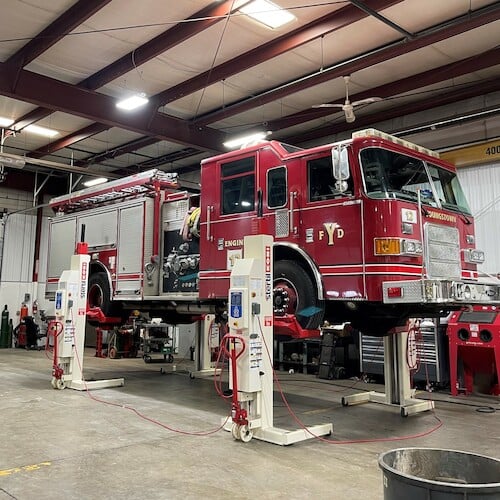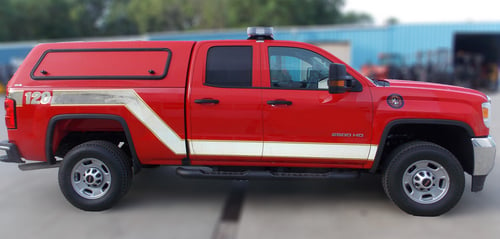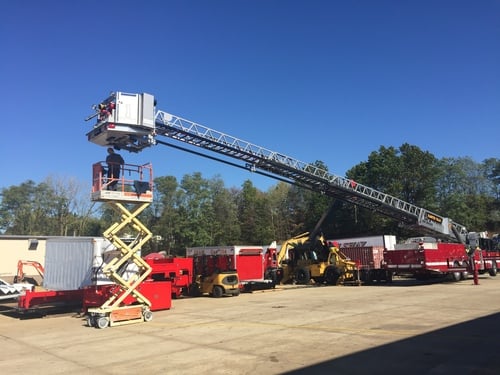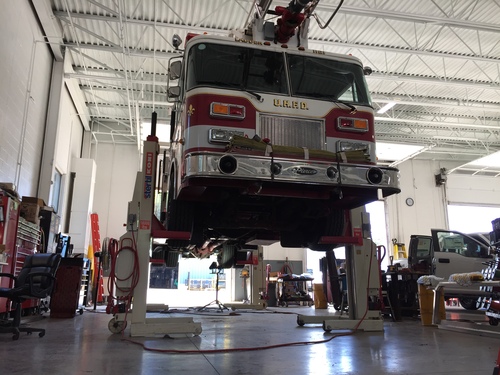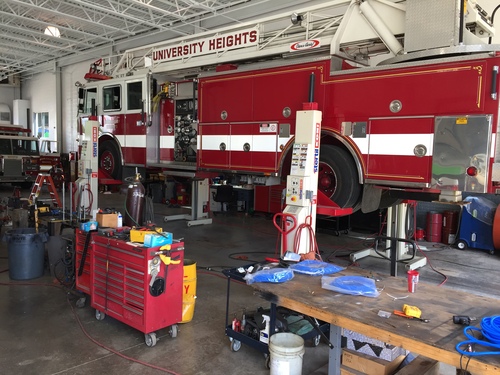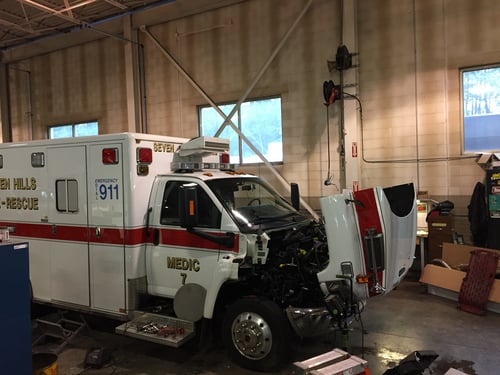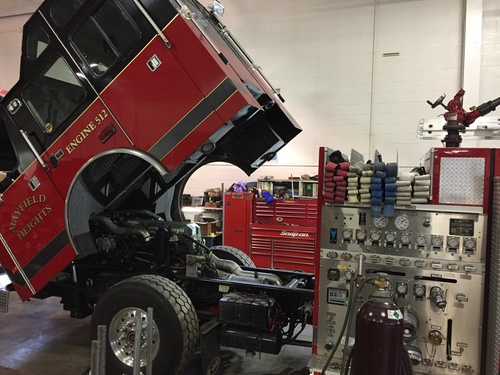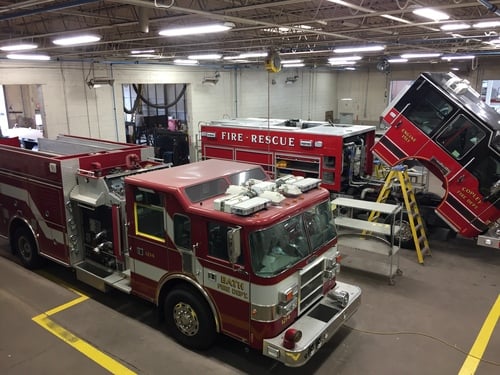 No matter the scope of work required for your fire truck or EMS vehicle, Fallsway Equipment is ready to handle it all. Our comprehensive services include full-service repair for fire engines, fire truck apparatus, and EMS equipment. With our team of EVT-certified technicians, your emergency vehicle service needs are in capable hands, ensuring the safety and reliability of your equipment. We have the expertise to work on all makes and models, from compact vehicles to the largest apparatuses on the market. Trust Fallsway Equipment for all your emergency vehicle repair needs.
---
Service Work
If your fire truck or EMS vehicle is in need of any repair, our EVT-certified technicians have the training, resources, and experience to get it done. We take pride in being the solution to your problem by offering bumper-to-bumper service on all emergency equipment. Whether you are in need of collision repair, vehicle lighting, or maintenance work done, we've got you covered! This also includes service and repair on fire pumps, aerial ladders, transmissions, engines, chassis, brakes, and more.
---
Collision Repair
When a fire truck or EMS vehicle has been in a crash or collision, it is important to get it fixed and back up and running as soon as possible. At Fallsway, we provide complete service, including bodywork, paintwork, and repair, on all emergency equipment. We understand your department and community rely on every apparatus in your fleet, which is why we take pride in providing unmatched quality and timeliness in our work to ensure your equipment looks and runs better than before the collision.
---
Refurbishment
Do you have a truck that is getting closer to the end of its first life? We understand that the cost of a new fire truck can squeeze your department's operating budget, so Fallsway is here to help! We have a team of excellent fire truck refurbishers who can bring your old truck back to life and make it "like new" for a fraction of what it cost to buy new. Our full list of refurbishment includes services like:
Complete repaint, stripping, and decals.
Re-Manufacture of components like engine, transmission, and anything under the hood.
Rebuilding pump and aerial components.
Upgrading lighting, technology, and cab interior.
Servicing brakes, pumps, and hydraulics.
Our number 1 priority is keeping your emergency equipment on the road to protect and serve our community. Fallsways refurbishment program can extend the life of your machine and save you money from buying a new fire truck.
---
Planned Maintenance
Regardless of the size of your fleet, your fire department needs to have a planned maintenance program for your fire trucks, EMS, and emergency apparatuses. The key benefits of a PM program are:
Reduced Maintenance Costs - Small repairs are caught before they turn into more costly, bigger problems.
Longer Lifespan of Equipment - Keeping your equipment in good condition extends its operational life.
Decreased Equipment Downtime - Unplanned downtime is costly to your department, especially when undetected minor issues become major breakdowns.
Increased Department Safety - Operator safety is the top priority of every department and PM's are the best way to minimize the risk of equipment failure.
Not all planned maintenance is the same! Because of this, it is important to not simply look at the price when choosing which program is best. Make sure you are getting an itemized checklist of work performed. We guarantee that our Planned Maintenance Program is the most thorough and complete one out there, at the best value.
---
Inspection & Testing
The worst time to find out something is wrong with your fire truck or EMS vehicle is when you are responding to an emergency. Ensure your apparatuses are safe and up to NFPA 1911 requirements by having regular testing and inspections done. At Fallsway, our EVT-certified technicians complete thorough inspections of all the working components so you can expect optimal performance levels on your equipment when you need it the most.
We also provide fire pump testing and aerial ladder testing on your fire trucks and equipment in accordance with NFPA 1911 requirements. Pump testing is required to be done at least once a year, and ladder inspections & tests are required to be done at least once every 5 years. Keep your equipment safe and running smoothly by having inspections and testing done at Fallsway Equipment, where we keep your fire truck and EMS apparatuses up and running at the lowest total cost.