Fallsway Equipment Company is excited to announce the addition of the new Jungheinrich moving mast reach trucks to its narrow aisle product line. The Jungheinrich ETV 110/112 series of moving mast reach trucks were first introduced to the North American market last month. They are now available exclusively through Fallsway Equipment Company in the greater Akron, Canton, and Youngstown areas.
The ETV 110/112 Series of moving mast reach trucks are equipped with a number of key features that help make Jungheinrich among the leaders in the narrow aisle industry.
Increased operator productivity was a main point of emphasis for this series of trucks. They boast a small profile design that allows operators to use it in tight quarters where space may be at a premium. They also feature Jungheinrich's new advanced curve technology, which automatically slows the unit before entering into a turn.
This series of trucks is also outfitted with the powerful AC technology motors, which are designed to operate two times longer than conventional batteries.
Operator comfort and safety has always been a staple of Jungheinrich trucks. The new reach trucks feature an improved mast design that allows for greater operator visibility. It also comes equipped with automotive-style drive pedals and solo-pilot hydraulic control levers that reduce noise and offer a smoother ride.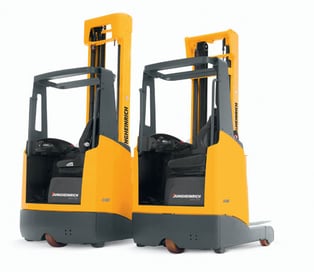 This new line of trucks is just one of the many offered by the German based Jungheinrich company. Be sure to check out their full line of forklifts.
Have questions about Jungeinrich forklifts? Contact us or call 1-800-458-7941