---

It may be hard to pronounce – Jungheinrich (Young-Hine-Rick), but you will know the name.
Who is Jungheinrich?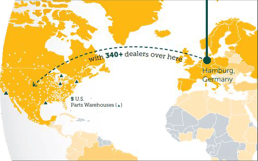 Jungheinrich is one of the largest global forklift manufacturers headquartered in Hamburg, Germany. Established in 1953, Jugnehinrich has had over 60 years to develop and strengthen its electric forklift capabilities. The product line is fully-support in America through Mitsubishi Caterpillar Forklift America Inc (MCFA) and has over 340 dealers supporting this product line. With 5 major parts warehouses, Jungheinrich is able to offer a 24-hour parts delivery or its free guaranteed.
Strong Electric Game:
While others are just getting started in the electric lift truck game, Jungheinrich is on their 5th generation technology and with more than 60 years under their belt. With all of that experience, they're capable of offering a 2 Shifts on 1 Battery Charge – Guaranteed:
Guaranteed to run 16 hours on 1 battery charge.
No interim charging necessary.
No battery swapping.
No additional battery needed.
Offered on several Jungheinrich Models.
Class 1-3 Forklift Solutions:
Jungheinrich has high-quality solutions for all of your class 1, 2, and 3 needs for a warehouse. A full warehouse product line from tuggers and sit-down counterbalanced trucks all the way up to reach and turret trucks. We are confident we can find a product that will best fit your warehouse's needs and exceed your productivity expectations.
---
Jungheinrich is a strong product for the electric forklift market. As a local dealer for Northeast Ohio, we are proud to offer this product as a high-quality solution for customers.
For more information contact us at 330-633-6000!