Jungheinrich EZS 7280NA: Electric Tow Tractor (Tugger)
With a compact durable design, the all-new 64,700 lb. capacity electric tow tractor from Jungheinrich is designed for towing heavy-duty loads in any industry. Enjoy a small turning radius, high performance when moving on ramps, an ergonomic workstation, corrosion protection, and energy efficiency while transporting heavy loads across the airport tarmac or industrial facility. Learn more about the Jungheinrich EZS 7280NA tugger and why it might be a great fit for your operation.
Productivity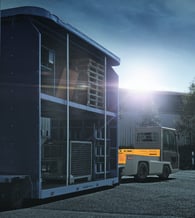 The EZS 7280NA reaches speeds of 15.5 mph (unloaded) and 7.5 mph (loaded). This allows your operators to quickly and effectively get where they need to go.
Designed to make life easy on your operators and save time, the touch mode feature makes it easy to attach and detach trailers.
Have ramps or inclines? No worry, the EZS 7280NA tows up to 9.5 tons, 21,000 lbs., on 10% grade ramps.
All parts and components are easily accessible; therefore, it is easier and faster to service.
Safety
The Jungheinrich EZS 7280NA provides maximum productivity without sacrificing safety.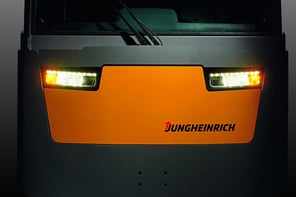 Driver Visibility – Enjoy a clear driving view with minimal blind spots. Also, cutouts on the rear panel provide an excellent view of the coupling.
Automatic Parking Brake – The tow tractor and trailer are secured automatically when it stops.
Hill-Start Assist – While on a ramp or incline, start without any roll-back. Paired with anti-skid control (ASC), you are ensured smooth, reliable acceleration in the toughest situations.
curveControl – This option automatically reduces speed while turning corners avoids tipping and ensures control over the load.
Energy Efficiency
The EZS 7280NA comes with proprietary 3-phase AC technology from Jungheinrich, thus consumes less energy, extends the battery life, and increases run times.
For 24/7 operations and high usage applications, the Jungheinrich EZS 7280NA has an XL option, which enables a larger battery size. As a result, there will be an increase in performance and energy efficiency.
Ergonomics
Ergonomic workstation features several designs implemented with the operator in mind, such as:
Automotive-style interior and operation with foot-pedal and adjustable steering column
Spacious cabin with an optimum all-round view, including great visibility of the coupling from the operator's seat
Low entry step with level foot-well
Outlet vents that prevent fogging
Total Cost of Ownership
Across its product line, Jungheinrich implements productivity features, energy and awareness designs, ergonomics, and uptime to minimize the total cost of ownership. The Jungheinrich EZS 7280NA is no different. Save time and money with 1,000-hour service intervals.
If you are looking to take the total cost of ownership even lower, consider getting it with the lithium-Ion package.
Fast charging with no need for battery exchanges
Maintenance-free and no odors from gases or acidification
Longer service life
Charging can be interrupted at any time without damage to the battery
5-year battery warranty
Specs:
| | | | | | | |
| --- | --- | --- | --- | --- | --- | --- |
| Model | Basic Capacity (lbs) | Voltage | Length To Fork Face | Chassis Width (in) | Chassis Height (in) ¹ | Gross Weight (lbs) ¹ |
| EZS 7280NA | 61,700 | 80 | 118.2 | 51.2 | 77.6 | 9,000 |
| EZS 7280 NA XL | 61,700 | 80 | 130 | 51.2 | 77.6 | 10,500 |
Contact us or learn more about the Jungheinrich EZS 7280NA tugger and why it might be a great fit for your operation.