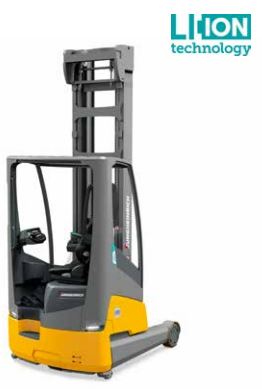 Jungheinrich has done it again by introducing the world's first reach truck with a fully integrated lithium-ion battery. The ETV 216i sit-down moving mast reach truck inspired by the previous ETV 2 series of reach trucks.
ETV 216i Features
Fast Lifting & Lowering
High Residual Capacities
Mast & Fork Tilt
360 Ah Integrated Lithium-ion Battery
Adjustable Armrest & Steering wheel
Storage Trays & Compartments
Color Display
Lithium-Ion Advantages:
Fast Charging
No battery exchanges
Maintenance-free with no odors from electrolyte leakage
5-year battery warranty
Longer service life and lower maintenance compared to lead-acid
You can interrupt the charge anytime without negative results
Reliability: The ETV combines a zero maintenance lithium-ion battery and added load stability due to its cabin design and counterweight to increase operator confidence and reduced down-times.
Ergonomics: Operators can work in comfort with the roomy compartment with plenty of legroom. The adjustable armrest and steering wheel position helps to support any operator during long shifts.
Operation: The compact design of the lithium-ion battery gives the operator increased visibility of the forks when lifting at higher heights.
Performance: Increased lifting and lowering speeds than conventional vehicles will increase productivity over time!