Take a look at the new Jungheinrich EJG series of electric counterbalanced walkie stackers! The EJG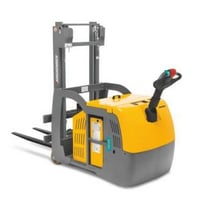 is a great addition to any warehouse that has tight spaces and no room for a wide walkie stacker with support arms. With weight capacities ranging from 2,600-3,500 lbs. The EJG is mainly used for loading and unloading cantilever type storage racking. Read more about the Jungheinrich Advantage below:
Cantilever Stacking Design:
A cantilever racking system design where inference from support arms allows the transport of sideways or special load carriers. The 7.5-inch load wheels allow for travel over uneven surfaces and low thresholds. The short overall length allows for easy maneuverability in confined warehouse spaces.
Precision, Comfort, and Sturdy Design:

Pilot style handlebar, allowing for the control to be at your fingertips. Just like every Jungheinrich walkie series, they are built with safety features such as Crawl speed, emergency safety stop, and electrical steering for effective control. The EJG has precise load lifting speed- control and noise-reduced hydraulic motor for the safety and comfort of the operator. A gentle deposition of load using proportional hydraulics and an automatic reduction in speed with raised loads will keep your load secure at all times. Also designed with an 8mm steel frame, proven to last in the harshest of applications.
Innovative control and Drive Technology with the EJG:
The EJG offers a high level of efficiency with excellent energy management. Engineered to have powerful acceleration at maximum capacity and a rapid directional change while maintaining the safety of the workload. Built with Jungheinrich's highly credited, 3-phase AC motors with electronic control. Tuned to your specific application, while offering a high level of performance in conjunction to lowering overall operating costs. Don't sacrifice performance for efficiently, have the best of both worlds with the EJG.
For more information please visit our page on Jungheinrich's EJG series or give us a call at 330-633-6000!