EJG 212-216 Counterbalanced Walkie Stacker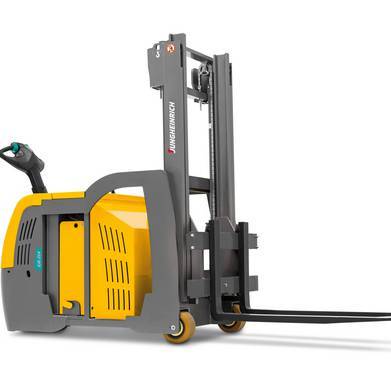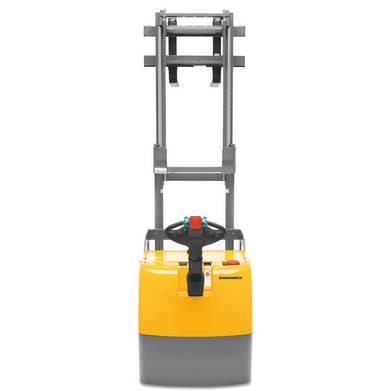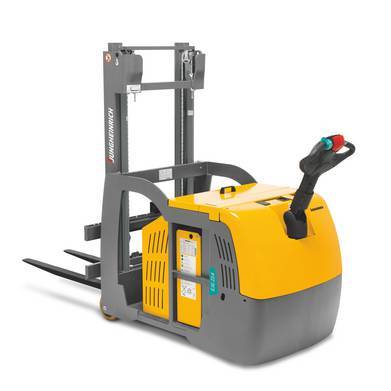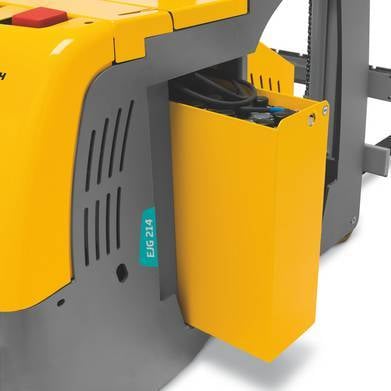 Fallsway Equipment is the exclusive distributor of Jungheinrich EJG 212-216 electric counterbalanced walkie stackers in Canton, Akron, Youngstown, Mansfield, and Marion, Ohio. We also distribute to Weirton, West Virginia, and Sharon, Hermitage, Farrell and New Castle, Pennsylvania.
The EJG 212-216 series of counterbalanced walkie stackers are used in a cantilever-type storage racking, where loading and unloading pallets or special load sizes sideways, and where support arm's on walkie stackers cannot function. These innovative machines are capable of lifting between 2,600-3,500 lbs with an overall width of 35.4 Inches and exceptional maneuverability in any tight spaced warehouse.
Control and Drive:
Built with Jungheinrich's 3-phase AC motors, tuned for your application. This machine offers a higher degree of performance simultaneously lowering running costs. Don't sacrifice power for efficiency, the EJG offers a high level of efficiency with excellent energy management for the best of both worlds!
Ergonomic Design:
The EJG is built to have a smooth, accurate, and comfortable stacking and retrieval design for all levels of expertise in the warehouse. The lifting and lowering functions are controlled by the multi-functional tiller arm, which allows the operator to concentrate primarily on retrieval and stacking of materials. Built for precision with load-lifting speed-control and noise-reduced hydraulic motor. Also comes standard with an automatic reduction in speed with raised loads for improved safety.
Cantilever Stacking Style:
The EJG is used in applications with a cantilever design, which allows for no interference from support arms and transportation of sideway pallets or special load types. With a ground clearance of 7.5-inch load wheels, this allows the truck to travel over uneven surfaces and low thresholds. The length of this machine allows for better maneuverability in confined warehouse spaces where real estate is a problem.
Contact us with questions about Jungheinrich Walkie Stackers, or give us a call toll-free at (855)-662-4379.
Forklift Equipment Information Request