ERC 214-216 Fork-Over Stand-On Stacker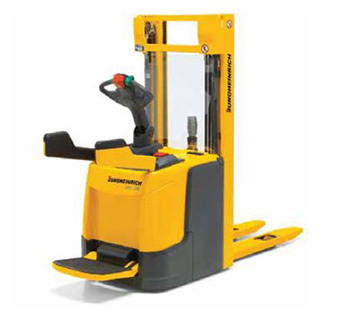 The ERC 214/216 Electric Fork-Over Stand-On Stacker combines the maneuverability of a pedestrian stacker with the option to work comfortably and quickly as a ride-on forklift truck. This series is equipped with a modern 3-phase AC drive motor, offering you greater performance while simultaneously reducing operating costs
COMFORTABLE RIDER MODE
The ERC is ideally suited for effortless transport over extended distances, and fast stacking, or retrieval at heights up to 210 in. The optimized cushioning of the stand-on platform facilitates comfortable driving and greatly reduces back stress, even when driving over uneven surfaces at speeds up to 5.6 mph (optional). The sprung, hydraulically applied castor wheel ensures safe and stable handling, with high residual capacities
GREAT VISIBILITY FOR GOOD DRIVING
The panoramic mast, almost 'truck width' and with narrow mast profiles, provide fast and easy handling of pallets and loads
GREATER THROUGHPUT
Because the operator rides on the truck, there is a significant increase in throughput of up to 14 % compared to a pedestrian truck.
EVEN EASIER STEERING
Especially for narrow spaces: electric steering. The advantages: Significantly reduced steering force and increased control while traveling due to the underlying steering characteristics.
THE RIGHT SPEED FOR EVERY APPLICATION
The ERC is continuously restricted to a speed of 2.7 mph in 'pedestrian mode' with the platform folded. It is available with three different maximum speeds for rider mode. Version 1: 3.6 mph (stand-on platform without side-arms). Version 2 (optional): 4.3 mph (stand-on platform with side-arms). Version 3 (optional): 5.6 mph (stand-on platform with side arms and sprung hydraulic castor wheel).
Contact us with questions about Jungheinrich Stand-On Stackers, or give us a call toll-free at (855)-662-4379.
Forklift Equipment Information Request