With plenty of 3-wheel, space compacted designed forklifts out on the market today, there is no other 3-wheeler like the Jungheinrich EFG 2 series. When it comes to cost savings and overall efficiency, Junghienrich perfected the bar with their EFG 2 series of electric 3-wheel pneumatic forklifts.
---
Reasons To Buy a Jungheinrich EFG 2: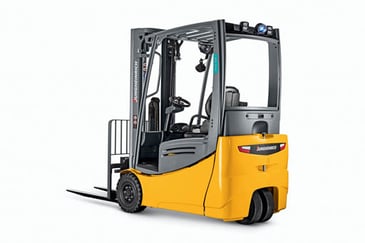 DOUBLED SERVICE INTERVALS
The industry standard on performing planned maintenance (PM) intervals is close to every 500 hours. The EFG 2 series, due to the efficient design from Jungheinrich, has a doubled interval to every 1,000 hours. That means you will have 50% less downtime, thus saving you on maintenance costs and increased productivity.
EASY SERVICEABILITY
Another great benefit to the EFG 2 is how finely designed it is for service. While you may have longer service intervals compared to other competitors, but when you do, the component's are all in easy to access spots. Jungheinrich designed the forklift with service in mind to help reduce downtime and costs over time.
2 SHIFTS ON 1 CHARGE
Jungheinrich has a focus on energy efficiency with all of their lift trucks and with many products they hold a guaranteed they will run 2 shifts on a 1 battery charge.
The EFG 2 forklift is one of the many products that offer this incredible energy efficiency. Spend less time changing and recharging batteries during a shift and more time on moving your products.
Changing a battery can take up to 30 minutes on average which valuable time wasted during a shift.
In addition, you will need fewer batteries to run your fleet which can save space in your warehouse for product storage.

PREMIUM OPERATOR ERGONOMICS AND COMFORT FEATURES:
The EFG 2 series comes standard with some of the top ergonomic features to help your operators with long shifts. Some of the top features include:
Low-Effort electric power steering.
No hydraulic components in the leg area to reduce noise and provide more leg room.
Ability to tilt and telescope steering column to match operator needs.
Essential controls all located on the adjustable armrest, allowing for intuitive control.
Solid pneumatic tires and full-suspension seat allowing for the more comfortable ride.
---
Want to learn more about the Jungheinrich EFG 2 series of electric forklifts? Contact us at 330-633-6000 for more information!