That's right service truck consumers, Reading finally revealed what they have been working on. Take a look at the Redi-Gate, the first secret, in-the-tailgate storage customization for your service truck.
This feature will give your truck 1.1 cubic feet of additional space with a compartment size of 44 inches wide, 11 inches tall, and 4 inches deep without taking away from any space from your current set up. With the Redi-Gate built into your tailgate, you will be capable of storing valuable equipment at a convenient location for easy access.
All Redi-Gate customizations are built with a heavy duty aluminum and stainless steel design for long lasting durability. It includes an e-coat and powder coat for corrosion protection. The EXP model comes with outlets for all your power devices!
The Redi-Gate is offered in two exclusive models for class II service trucks.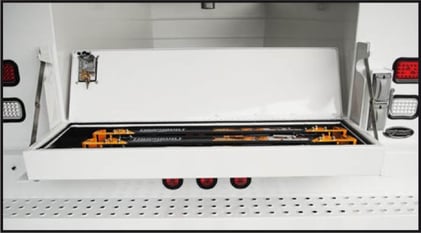 Model EX
Molded compartment liner
1.1 CF storage space
Concealed lockable faceplate
Model EXP
Same as EX model, plus…
Four 125V GFCI outlets
Inbound power supply receptacles
For more information on this secret operation contact us at Fallsway Equipment or calls us at 1-800-458-7941.