When utilizing LP, gas and diesel forklifts for indoor applications, there is a high risk of dangerous emissions with fuel burning. That risk quickly increases when the building where you're using the forklift is not up-to-date with ventilation requirements.
INDOOR VENTILATION FOR LPG TRUCKS
On any emission inspection service request, ventilation is the first thing we check. If a building has no ventilation, noxious fumes can build up and cause sickness and/or death. OSHA set the CO exposure standard at 50ppm during an eight-hour period, hence the importance of regular air quality testing, as indicated in OSHA 1910.146/ title 29.
It is critical for all indoor LP, gas and diesel trucks to be properly maintained for your workers' safety. In many cases, emission issues relate to the misapplication of equipment and aren't thought about until someone gets sick. Here at Fallsway, emission testing is a value-added service while performing our routine planned maintenance.
MACHINE STANDARDS BUILT PRIOR TO CARB
Forklift emission standards usually fall into the following criteria:
Carbon Dioxide 13%/15%
Carbon Monoxide .5%/ 1.5% (.5% difficult for non-fuel injection non-computer-controlled engines to attain)
Hydrocarbons 75 / 125 PPM
Nitrogen Oxides 2,000 / 3,000 PPM
Oxygen 1% / 3%
MACHINE STANDARDS POST CARB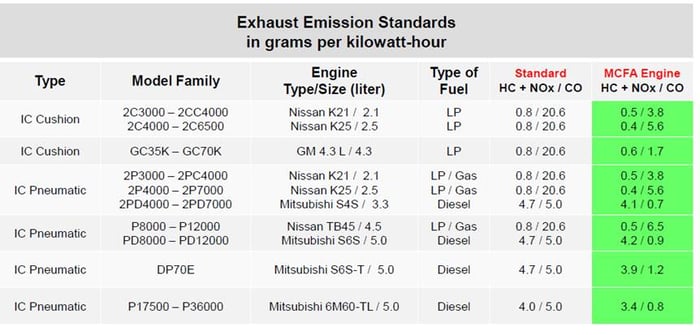 Below is an example of Emission Control Information (Post CARB Tier II) tagged on a CARB-certified engine: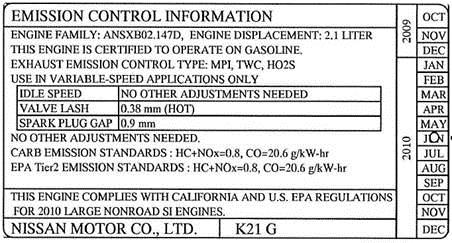 With non-CARB and CARB Tier I engines, we suggest an annual testing program for any machine running indoors 75-100% of its run time. As engines are now requiring fewer tune-ups, it can also ensure that an engine is running at its peak performance. CARB Tier III may reduce the opportunity to sell as its monitoring systems are much more sophisticated and will generally experience a fault by illuminating a MIL (malfunction indicator light) when out of spec.
As a safeguard, we have been requested to test a Tier III lift truck so customers have proof of its emission output when reporting back to their Safety Department and our five-gas infrared analyzer (with a portable printer) provides that report. Not properly testing emissions can result in bad press, whether the building is well-ventilated or not. It's easy to see what would happen to a business if it had numerous employees go home for an extended period or, worst yet, hospitalized due to poor ventilation.
Need forklift training or help from the forklift experts? Contact Fallway for emission and ventilation questions or give us a call at 1-800-458-7941.
Originally published 7/25/2014
Updated 4/15/2019