One-way Fallsway continues to be a solution provider is by offering dock repair and services. When your dock needs service, we know you need it as fast as possible. Trust our team to handle repairs and service for all areas of your loading dock. In today's blog, we will discuss our dock equipment service, dock levelers, dock seals, and truck locks.
Dock Equipment Service
A flawlessly working dock is a key component of any warehouse. Once your dock breaks down it can lead to a multitude of other problems. In addition to our warehouse and loading dock equipment, we also offer dock equipment maintenance service.
We offer:
Clean debris from pit
Inspect leveler for visual cracks
Inspect for missing hardware
Check for worn or loose fasteners
Lubricate all grease fittings and linkages
Adjust Dock Leveler for proper operations
Adjust Vehicle Restraint for proper operation
Inspect Vehicle Restraint safety lights for proper operation
Check the condition of dock seal or shelter
Inspect for loose or worn dock bumpers
Inspect lip and deck for wear or damages
Once our services are completed, a final check is done to ensure your dock will be in top shape. Trust us to ensure your dock problems are a thing of the past. If you would like to sign up for dock equipment service, or learn more about our dock equipment service, click here!
Dock Levelers
A dock leveler is a piece of equipment that is mounted to the dock face or in a pit at the loading dock door allowing movement of vehicles between building and transport vehicle. Fallsway provides Nova dock levelers for our customers, well known for their high-quality design. Their equipment is equipped with top of the line materials, meets all safety regulations, and is affordable. Nova docks levelers are available in mechanical, air-powered, and hydraulic models. This versatility allows your business to choose the best available option for your operation.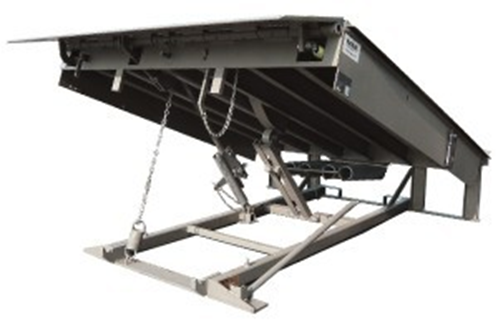 Dock leveler details include:
The operable range is 12" above and 12" below dock level
The platform is designed to service out-of-level trailers with up to 4" of flex and remains flush with dock floor
Full-width rear hinge in compression with structural channel rear frame supports for added strength
Integral maintenance strut is lockout/tagout compliant
Positive lip extension
Below dock end load capability
*We also recommend a Nova Truck Lock for added safety
Interested in learning more about the benefits and features of Nova dock levelers? Click here to find out more information on this PDF!
Dock Seals
Fallsway also partners with Nova Technology to provide dock seals with superior design and materials. Nova's seals offer a broad range of seals and shelters to fit the needs of your facility from vehicle type to door size to dock height and many more.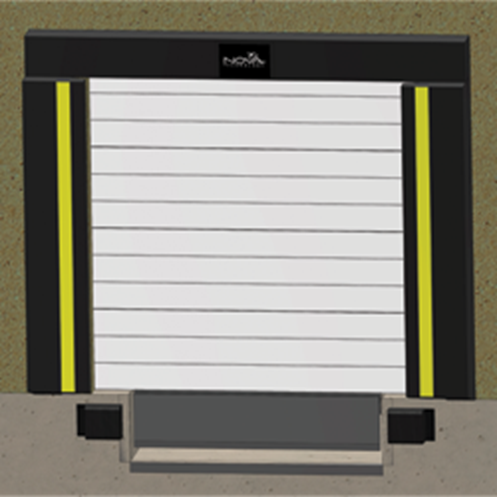 Nova dock seals offer:
Provide superior performance and weather resistance
Provide the best abrasion resistance, tear strength and service life of comparable fabrics at a more competitive price with NOVA's MAX-60™ fabric
Provide long life and excellent resiliency characteristics with high-density urethane foam
Select grade pressure treated kiln-dried lumber
Shelters include steel support bumpers
Heavy-duty galvanized mounting hardware
Seals feature brass grommets with spur washers for venting
Velcro® brand fasteners
All sew lines are backtracked with locked stitching
Heavy bonded polyester multifilament thread with a UV protectant
Perfect for beverage, paper products, distribution center business, or another line of business that requires protection against the elements, Nova dock seals will get the job done. Interested in learning more?
Truck Locks
Not only do we carry Nova levelers and seals, but we also offer Nova truck locks. Truck locks offer the ability to reduce a company's risk of injury, property damage and downtime in your shipping and receiving. With several models to choose from, we are confident you will get the right lock for your application.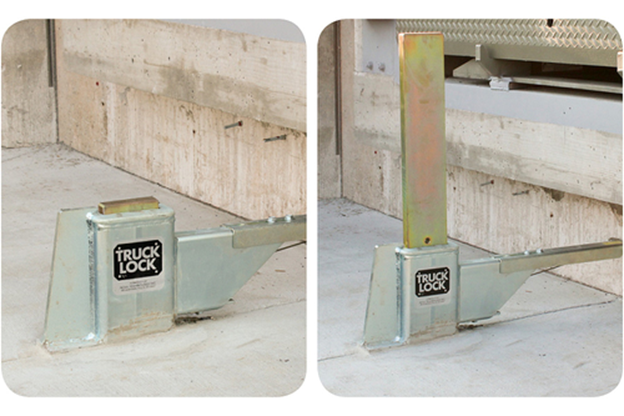 Nova truck locks offer the following:
10″ or 7 1/2″ retracted height… Restrains more types of trucks than anyone else.
Lowest Cost of Ownership in The Business!
Extremely low maintenance, with very few moving parts
All Activation Components INSIDE the building… Not Exposed to Weather.
Non-Contact Truck Restraining… No Damage to Trucks… or Dock Wall!
Installs at more "non-standard" type docks than anyone else… i.e. brick veneer, concrete curb, block etc.
Economical Manual or Pneumatic Operation.
Unit cost is "budget-friendly" with excellent ROI.
Rust Resistant… zinc plated.
Ram Bar yield strength of 100,000 lbs… no deformation.
Over 30,000 lbs. of restraining force.
Cast in or Bolt-in (Flange) Models.
Environmentally friendly.
Operates in the harshest conditions.
Small footprint… not obtrusive to loading dock operations.
May lower insurance costs by making your loading docks safer.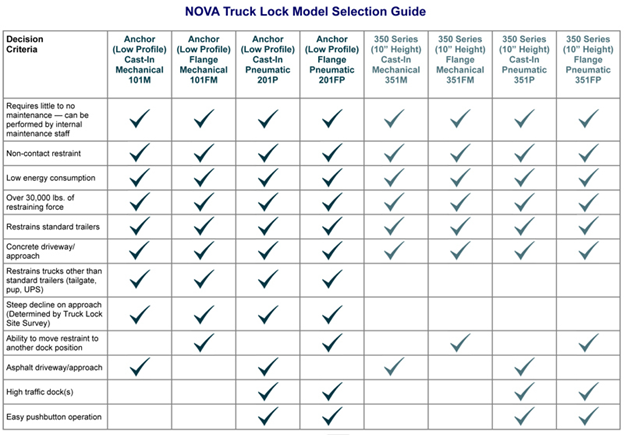 Key Takeaways
From installation to repair, rest assured that Fallsway has your loading dock equipment needs covered. Nova Technology is a leader in dock technology and we proudly work with them to offer you the best products. We currently offer services in Ohio, Michigan, Pennsylvania, Indiana, West Virginia, and Kentucky. Interested in learning more? Click here to contact us!