The material handling industry is evolving with new technology every day. Companies are finding new ways to move products at efficient rates, saving both time and money. AGV's or Automated guided vehicles are forklifts that do not require an operator to function. The goal of an automated solution is to improve your operations warehousing efficiency and thus increasing profitability while reducing the overall costs.
Why choose AGV's?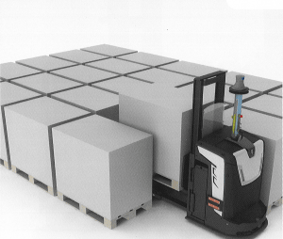 Operators are eliminated, along with the error that comes with them. There are no damages to customer products, buildings, or machinery, thus saving costs on replacing misuse and abuse.
The increase in warehouse safety will dramatically increase safety records.
Reliably work 24/7 in critical 3 shift operations. Sleep easy at night knowing that your warehouse is still hard at work!
Every AGV's path is traceable, thus being able to identify product movement in your warehouse.
They have a low life-cycle cost.
Dramatically reduce operation and maintenance costs from hefty repair bills on machines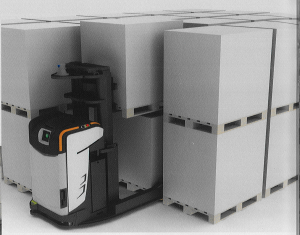 Traditionally automation projects have been expensive, slow, or inflexible to implement, but technology has been changing and developing to make the futuristic warehouse more of a reality. With the help of our experts, we can design a warehouse capable of full automation with various units all working in sync towards one common goal, efficiency. Automation can show impressive cost savings to the warehouse, especially in areas that your employee is handling longer load transfers. It will save employees for other tasks around the warehouse instead of cookie cutter, routine tasks automation can handle.
Take reliability and efficiency to the next level with AGV's. They are a durable, flexible, and modular solution that will deliver a short ROI. The technology has been around for decades and has been proven to work in various applications.
For more information contact us at 330-633-6000 to speak with a material handling expert.