In most industries, especially the forklift industry, the service department will make or break a company. At Fallsway, we understand this and embrace it by investing heavily in our forklift technicians. With a seemingly endless benefits package and enriching culture, we are a small, family owned and operated. However, we have advancement opportunities for those who value hard work and care about their job and company. In addition, Fallsway knows that the exceptional work ethic of our employees makes our future bright. We believe company-wide growth starts with employees who are customer focused, believe in going above and beyond the call of duty, and are committed to caring for the community of businesses we work with and support.
The material handling industry is a great one to work in. First off, it is continually growing and evolving, so there is no need to worry about job security. With over a quarter of a million forklifts sold a year in North America, there is a constant demand for forklift technicians. However, there is no need for experience working on forklifts to be considered or hired, the only thing needed is a mechanical background or interest. This includes working in the automotive industry or on cars as a hobby. We believe in expanding your current knowledge with continuous training. This is not just a job, it is a rewarding career.
As an industry leader, Fallsway offers a complete range of benefits that makes us stand out from our competitors. For example, we offer an hourly rate to our technicians, who get paid weekly. See below for a complete listing of benefits and compensation.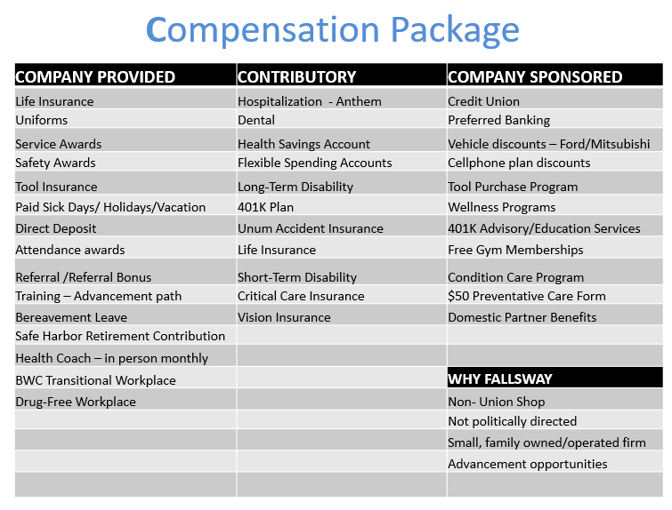 Start your rewarding career as a forklift technician for Fallsway Equipment Company. For more information or to submit an application click on the link provided below.
https://www.fallsway.com/employment-application