What do electricians, oil and gas crews, HVAC workers, construction teams, utility workers, and people from many more industries have in common? They all rely on custom-built trucks every single day to get their job done. But with all these different industries, how can each business, township, city, and department spec the ultimate work truck for their specific needs? Furthermore, what are the criteria and considerations that go into the specification process?
In this blog, we will cover everything you need to know when designing and spec'ing a work truck, including how to choose the right chassis and service body.
Application
The first step is always to consider the application of the truck. Make a list of the tasks and functions that the truck needs to be able to perform in addition to the estimated time for each task. It is crucial to visualize the truck and have an accurate picture of how your truck will be used on the job.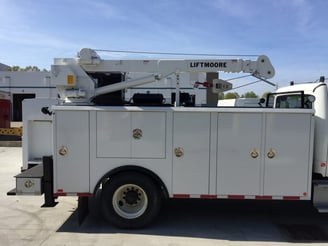 Questions to ask:
Is your truck primarily a mobile workshop or hauler?
How much will it be used?
How many people will be using it?
Is it used at night?
How much time does it spend on the road and how frequently does it stop? Will it need to tow anything?
Location
Building on the application, it is important to consider where the truck will be used. There are a variety of surfaces that trucks can run on, including unimproved roads, snow, mud, steep terrain, busy streets, and off-road. If you list all the locations, surfaces, climates, and conditions that will be encountered, you will be able to properly identify any special capabilities needed.
Access
The third consideration is access. A truck that is difficult to navigate and retrieve cargo from wastes time, thus lowering productivity. Access is heavily influenced by application, industry, and cargo.
Questions to ask:

Where and how will materials and people move throughout the truck body day after day?
Do drivers need access to the cargo space from the cab, curb, or back of the truck?
Will users need to enter and exit frequently?
Will materials be transferred in and out of the truck bed? If so, how?
What will you be moving? Heavy equipment, bulk material, palleted goods, or something else?
Load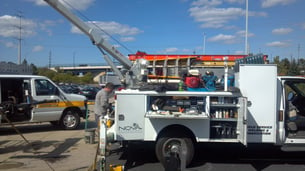 Accurately determining load size plays a significant role in spec'ing the ultimate work truck, especially in selecting the right chassis. Every truck has a Gross Vehicle Weight Rating (GVWR), the maximum operating weight/mass of a vehicle as specified by the manufacturer. It is important to consider and calculate everything that will add weight (the crew, their tools, cargo, any additional equipment, etc.). One of the most common errors made with spec'ing a work truck is getting a chassis with too small capacity. This results in costly losses in productivity and excess wear and tear on the vehicle.
Equipment
Everything needs to be accounted for; everything needs a place. List any additional equipment that will be needed on the work based on the application, such as ladder racks, hoists, or cranes. Also, make sure to layout and record any additional items that will be carried, such as liquids, spooled materials, pipes, and bulky items.
Legal Requirements
It is important to be aware of and understand all the regulations that govern vehicle operation. They vary state to state but have a huge impact on the design and specs of a work truck
Choosing The Right Partner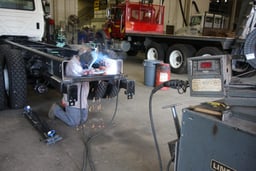 Even though it is mentioned last, who you complete the process with and choose as your partner is arguably the most important step in the process. There are many companies that sell and install truck bodies; however, the best ones work with you throughout the entire process to make sure you are getting the perfect chassis with a service body customized to your specific needs. Don't spend too much time designing your work truck, let the dealers do the work! This is where Fallsway comes in. With a consultative approach to selling, we make sure to get to know you and your needs before we start providing a solution. Enjoy experienced experts that are among the best in the industry at solving problems and providing solutions. Trust Fallsway to spec your ultimate work truck!
Looking to design and spec the ultimate work truck for your operation? Just have a question? Our experts are happy to help. Contact us today!
Fallsway Equipment specializes in providing custom solutions catered to your specific needs at our state-of-the-art facility in Akron. Representing the best manufacturers in the industry, including Reading for commercial truck bodies and Whelen for lighting, along with our team that has industry-leading experience, knowledge, and resources, you are guaranteed to get exactly what you need.