Before diving into why your operation should consider adding a turret truck to your fleet, the first order of business is answering the question, "What is a turret truck?". Turret trucks are very specialized machines for very-narrow-aisle (VNA) applications. Immediately drawing attention due to its unique design, there are traditionally two options available, man-up, the more common option where the carriage and operator are lifted to retrieve and store pallets, and man-down, where the operator stays down while picking orders.
Increase Warehouse Capacity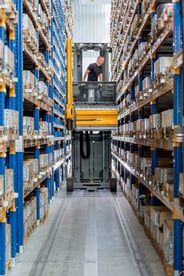 Is your operation limited because you don't have enough room to store inventory? Turret trucks are designed to increase warehouse capacity by reducing aisle widths, thus making room for more aisles. Since the forks are mounted on a smaller front mast that can rotate 180 degrees, the operator has access to both sides of the racking aisle without rotating the unit. VNA turret trucks can reduce aisle width by 50%. Save space and increase warehouse capacity with turret trucks!
Increase Productivity
With a pallet throughput 3x as high as the standard counterbalance forklift, no equipment can handle more pallets and loads than turret trucks. However, not only are turret trucks implemented in operations that are looking to increase volume and productivity, but also for those looking to cut costs. When turret trucks are added to a fleet, fewer operators are needed to produce the same output. Whether looking to increase productivity or cut costs, turret trucks are designed to optimize your operation.
Turret Trucks from Jungheinrich
Selling more turret trucks worldwide than Crown, Raymond, or Yale, Jungheinrich is your industry leader for quality and cost-savings. German designed, you will find unmatched energy efficiency, productivity, ergonomics, and intelligence in each Jungheinrich turret truck.
Energy Efficiency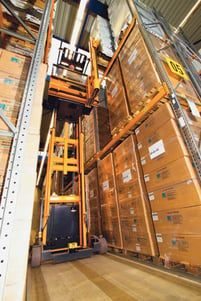 A pioneer in AC forklift motors, Jungheinrich has unmatched technology and the most experience relating to energy efficiency. For example, they are the only turret truck manufacturer on the planet that can guarantee two shifts (16 run hours) on one battery charge. Regardless if your operation is one or two shifts, you will need to charge your battery less frequently, resulting in a significant increase in battery life and cost savings. In addition, exclusively Jungheinrich offers reluctance AC motors, reducing energy losses by up to 50% when driving, steering, and using hydraulics. Energy efficiency saves you money, and none do it better than Jungheinrich.
Productivity
For Jungheinrich, performance is just as important as energy efficiency. Not only do they manufacture turret trucks with the highest reach on the planet at an impressive 708", but put head-to-head against competitors, Jungheinrich is also more productive and has a higher lift speed. They work smarter so you can work harder. Enjoy unmatched productivity and performance with turret trucks from Jungheinrich.
Ergonomics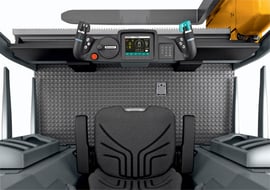 Turret trucks from Jungheinrich increase efficiency and performance through operator comfort and optimized design. Your operators are guaranteed to love the spacious operator compartment with extensive legroom and a full suspension seat with adjustable armrests. In addition to a flexible concept for comfortable sitting or standing, Jungheinrich also implements intuitive and comfortable operator controls.
Intelligence
Jungheinrich Warehouse Navigation is a form of semi-automation that uses RF transponders to pinpoint and navigate to the next order in the quickest time and using the least amount of energy. Implementing this technology could increase productivity by up to 25%. Warehouse Navigation can be to be integrated with your warehouse management system, eliminating operator errors and make every operator a top performer!
When choosing a turret truck, Jungheinrich is a clear choice. Experience the difference for yourself and demo against the competition. Not only will your operators love it, but the increase in productivity and cost savings will take your operation to the next level. Contact Fallsway today to find the perfect fit for your operation!