Forklifts often have to be operated on an incline or grades at a facility. Operating a forklift on a grade improperly can result in serious injury or damages. It is best that you have your operators develop some best practices when moving up and down ramps with or without products. This can result in keeping your warehouse safer and more efficient. Follow these 5 tips to keep the product, operators, and everyone around safer.
---
CHECK THE MANUAL
Check your Operation and Maintenance Manual (OMM). Every forklift manufacture provides an OMM with their forklift that each operator should read before getting on the machine. Make the OMM part of operator training and keep it accessible to anyone who gets on the machine. Most manufacturers have an area dedicated for the safe storage of the manual. If you are missing your OMM for your forklift, contact our parts department for a replacement!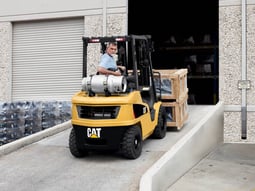 TRAVELING ON GRADES
No matter what, you should always drive a loaded forklift with the forks pointed up the grade. This will ensure that the load is secure and will not slide off the forks. Also, regardless of the direction, you should always travel with an unloaded forklift with the forks pointed down the grade. This helps improve traction and braking while traveling the ramp.
SPEEDS WHILE ON GRADES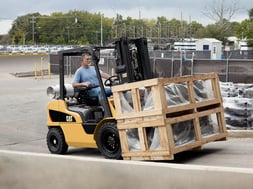 The key to operating any type of grade is simply maintaining a consistent and slow speed. This will minimize the risks of tipping. You should follow this practice whether you are carrying a load or not.
DIRECTIONAL CHANGES ON GRADES
At all cost, directional changes on a slope should be avoided. Any type of directional change on a grade can result in serious risk or injury. The sudden change can create an imbalance in the equilibrium of the forklift, which can cause a tip-over.
In order to prevent this, have your operators familiarize themselves with their surroundings. Plan the route on the straightest path up and down the grade. Ensure there is nothing in the way of that path and always travel slowly.
KEEP IT BASIC
Remember the basics that you retained from your operator training course. Keep it slow and maintain a constant speed while descending or ascending grades. Apply the information you learned from your operator training to keep everyone safe.
---
Our forklift operator training programs can help keep operators knowledgeable and safe while operating equipment. For more information about our training programs contact us at 330-633-6000.