On Wednesday June 24, Fallsway Equipment Company sponsored the annual Grand Derby, at historic Derby Downs. It was a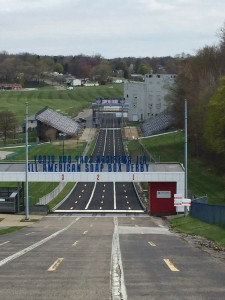 fun filled day of inter-generational racing. Families from across Northeast Ohio descended on the track to show off their racing skills. There were over 300 men, women, and children who attended the 3rd annual event, many of whom were second and third generation track racers. Akron Mayor, Jeff Fusco was in attendance as well as media members from both the Akron Beacon Journal and Fox 8 News.
Attendees were treated to lunch, a tour of the derby's Hall of Fame and Museum, and a race down the 989-foot Derby Downs track, plus kids enjoyed face painting, balloon animals, and other free giveaways.
Fallsway has its own historic tie to the Soap Box Derby. The Owner and CEO of Fallsway Equipment Company, Harry Fairhurst, was a part of the Soap Box Derby back in 1956. That year, the Akron Beacon Journal voted Harry's car the best design in the competition. Harry's original car was on display at the event and attendees marveled at its beauty. A really special moment took place near the end of the event when Harry's grandson, Greyson Fairhurst, took his grandpa's 1956 car down the very same hill his grandpa had competed on over 50 years ago. It was a heartwarming moment for all those in attendance.
Follow us on social media to see more pictures and videos of the event!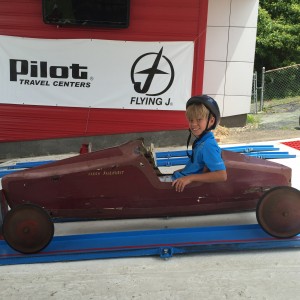 About the Soap Box Derby
The Soap Box Derby® is an international nonprofit organization whose mission is to build knowledge and character, and to create meaningful experiences through collaboration and fair and honest competition. The Derby's core values and drivers include; youth education and leadership development, family engagement and enrichment, honesty, integrity and perseverance, innovation and entrepreneurship, teamwork and collaboration, mentoring, volunteerism, and commitment to community. The derby dates all the way back to 1934