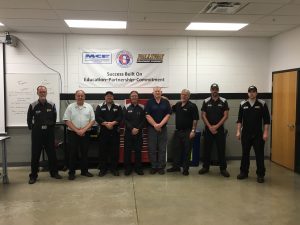 In the fall of 2005, a partnership between Fallsway Equipment Company and Stark State College was born. Stark State has a well-deserved reputation of excellence in training for the Comprehensive Automotive Programs as well as providing a variety of options for their students. Meanwhile, Fallsway puts significant focus on the training and development of technicians, as to better serve customers. Thus, the Cat Lift Truck program was developed, offering students the availability to receive a specialized undergraduate certificate.
This training program consists of 24 credit hours in Class IV and V products covering:
Lift Truck Fundamentals
Planned Maintenance
Engine Diagnostics
Vehicle Systems
LP Fuel Systems diagnostics
This partnership has been an excellent way of providing different career options for technicians, as well as acting as a high-quality source for Fallsway to find service technicians. Currently, Fallsway Equipment proudly employs 15 technicians which came out of this program over the years.
In addition, Mitsubishi Caterpillar Forklifts America (MCFA) conducts a mobile technician training class for Fallsway Technicians at the Stark State Facility every year. They provide significant resources and great hospitality to ensure successful training. Earlier this year, MCFA graciously donated several new engines to the program to work on.
We would like to express a big 'Thank You' to all the people at Fallsway and Stark State who help make this partnership work. Your commitment and passion for learning is the true reason for the success. We look forward to continuing and growing this successful partnership in the future.