Your forklifts are investments, and it is important to protect these investments from inclement weather and everyday wear and tear. Some of the popular options include forklift seat covers, forklift cab covers, and covers that attach to forks. Check out some of the inexpensive options below:
Seat Covers:
It may sound simple, but adding a seat cover to your forklift will help protect it from wear and tear. Over time, seats exposed to water or the sun tend to crack and would eventually need replacing to keep your operators comfortable. The cost for a replacement seat over a seat cover is pennies to dollars and the simple investment can save you hundreds of dollars and hours of downtime. Typically seat covers are a nylon fabric that stretches over the seat for a simple and secure fit to your existing seat, providing more life to your seats and an extra layer of comfort.
Fork Covers:
Forklift forks get used for the most part and receive the heaviest damage during normal use. A way to help cut the cost of replacement forks are fork covers or sometimes called "fork socks". Fork covers made of a heavy-duty nylon webbing made to cut scratches or damage from picking up loads. These covers are simple to install with connectors and offer a huge financial benefit when it comes to protecting the life of your forks.
Cab Covers: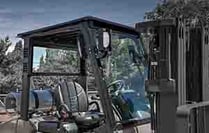 Forklift cabs are hard to protect from things like dust, rain, or falling debris. Forklift cab covers can add a layer of protection to your forklift to cut those listed above. Cab covers are a plastic or vinyl material that is capable to oppose weather and other debris. With various sizes, depending on the forklift, these covers are simple to install. If you do various jobs in wet conditions, some covers come with a domed roof with channels and gutters to divert water. These covers can also be tinted for those who spend a large part of the day in the sun, which can offer UV protection to your drivers.
Forklift covers are a great way to protect your equipment. For more information contact one of our experts about these inexpensive covers!