Have you heard about our online parts shopping experience powered through nGauge?
Shop for forklift parts online 24/7 through Fallsway's nGauge online parts store.
Our online parts store is designed to provide you with quick access to the parts you need to keep your forklift fleet operating at its best.
Whether you're performing a tune-up, replacing a broken tail light, or rebuilding an engine you can quickly check part availability and pricing for over 4.2 million replacement parts, regardless of your forklift make and model.
The ability to streamline your parts ordering allows you to spend less time maintaining your forklift fleet and more time running your operation.
---
Searching Options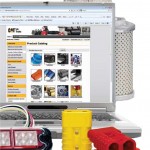 Search by Truck Model
Search by Part Number
Browse Product Catalog
View any CAT, Mitsubishi, and Jungheinrich branded lift truck manual
Site Features
Convenient navigation and easy-to-use shipping cart
Excellent website support and contact links on each page
View complete part details page
Generate and manager quotes
Search and view previous orders
Manage purchases for your entire forklift fleet
Parts at just a click away…

Contact our parts department or call us at 330-633-6000 and ask us how you can get signed up for our nGauge program!