Introducing the Jungheinrich Fork-Over Stacker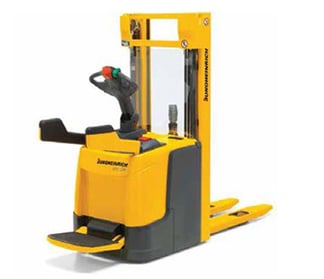 With capacities ranging between 3,000 and 3,500 lbs., the new Jungheinrich ERC 214-216 series of fork-over stackers features excellent efficiency and reliability suited for your application needs – all while providing operators with a quiet and smooth ride experience.
The tiller head, sealed to IP65 standards, and the controller, sealed to IP54 standards, are both well protected from elements, such as dust and water, in the environment. The powerful 3-phase AC drive offering you greater performance while simultaneously reducing operating cost and getting more done with less down time.
The ERC 214-216 series combines the maneuverability of a pedestrian stacker with the option to work comfortably and quickly as a ride-on forklift truck.
Also Featuring the Jungheinrich Low-Lift Pallet Truck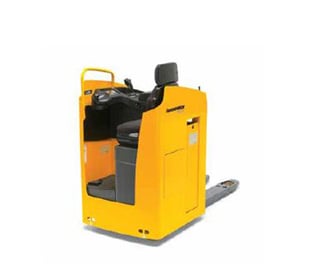 Jungheinrich's new series of sit-on low lift pallet trucks, with capacities up to 4,400 lbs., offers outstanding performance and efficiency suited for your application needs, all while providing operators with a quiet and smooth ride.
The innovative work station and controller design of the ESE 220-320 series provides a comfortable, ergonomically-friendly and fatigue-free experience. The ShockProtect® feature and Curve Control Speed Reduction System both help to reduce risk to the operator, truck and load.
The ESE 220-320 is ideal for horizontal transport over medium to long distances. The Excellent visibility and comfortable working environment is a great advantage, especially where frequent changes of direction are required.
Both of these trucks are available now!
For more information about these products call us at 330-633-6000 or contact us online today!