Today marks the 3rd annual National Forklift Safety Day! National Forklift Safety Day promotes the importance of training and safety while operating material handling equipment.
Here are some Safety Tips that every operator should follow!
Remember the mantra, "slow and low." Move slowly and keep your forks 2-4 inches from the floor
Keep up with your lift truck maintenance—it's one of the best ways to ensure your machines are operating safely
ALWAYS tilt your load back before raising or driving
Pay attention to your machine capacity limit and do NOT exceed the limit
Pedestrian safety is just as important as operator safety. Make sure the pedestrians in your workplace have been trained to read where the labeled walkways are located
We offer Forklift Safety training to keep your employees up to speed on safe operation of lift trucks and all other material handling machines that you may have! These training classes can be done at our headquarters on site at your facilities.
Did you know that effective training may reduce accidents by 25-30 percent? Operator training is not a option, it's a standard that OHSA strictly enforces!
As a special on National Forklift Safety Day, we are offering a special 10 percent off promotion on the following items that promote safety in your work place when it comes to your material handling needs.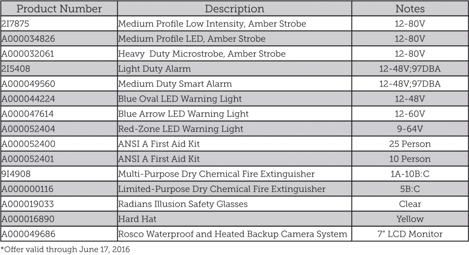 For more information about this special offer call Fallways parts department at 330-633- 6000 today!