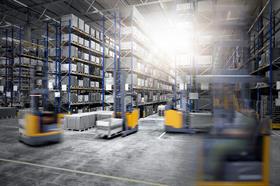 We would like to show recognition to Jungheinrich for receiving a major order for more than 1,000 lithium-ion vehicles. The largest order ever awarded for vehicles fitted with lithium-ion batteries anywhere in the world and also the largest vehicle order volume in the company's history.
Of the 1,000-plus industrial trucks, 700 consists of vertical order pickers designed for narrow-aisles in warehouses.
Lars Brzoska, a member of the Jungheinrich board of management in charge of marketing and sales, say's the order is "a new milestone for electro-mobility (which) underscores Jungheinrich's unrivaled mastery of lithium-ion technology".
Lithium-ion batteries are produced at the Jungheinrich plant in Norderstedt, Germany, which Jungheinrich claims to be the world's only manufacturer of industrial trucks to produce its own lithium-ion batteries. The batteries are intelligent and can communicate with the vehicle as well as the charging device.
Jungheinrich has experienced an annual 300% increase in sales for lithium-ion batteries over the past three years. With the continued strong global demand for this product, the group is planning to expand its manufacturing capacity in the future.
To learn more about Jungheinrich lithium-ion technology contact us at 330-633-6000 and talk to specialists today!