We are excited to introduce the new lithium-ion (110 Ah) 24-volt battery for the Jungheinrich EJE 120 walkie pallet truck!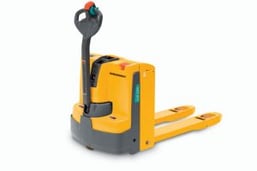 Using the latest lithium-ion technology, Jungheinrich's battery option is maintenance-free and has an impressive life expectancy of up to 3,000 discharge cycles. With an average service life for a lead-acid battery ranging from 900 to 1,200 cycles, that's more than double the number of discharge cycles. This newly designed lithium-ion battery provides a high-efficiency charging level that allows it to quickly reach 50% charge after 85 minutes with its onboard charger, passing over 20% in energy savings.
What unique benefits does this lithium-ion battery offer for the Jungheinrich electric pallet truck?
Unrestricted Usage & Fast Charging Capacity
The Jungheinrich lithium-ion battery emits no gas or acid, allowing it to be used in sensitive applications like food storage.
Longer Run Time & High-Level Efficient Energy Usage
Usable in multi-shift operations, the increased efficiency in comparison to a conventional lead-acid battery will reduce energy costs significantly.
High-Frequency Charger for Optimized Charging
Extremely short charging times gives a high level of vehicle availability and flexibility for the day-to-day warehouse usage needs. This battery reaches 50% after only 85 minutes of charging, 3.5 hours for a full charge, and can be interrupted at any time with no adverse effects.
Maintenance-Free Battery
The enclosed design (IP54 rating) protects the battery from dirt, dust, and splashed water, eliminating the cost of battery upkeep, maintenance, and infrastructure.
Integrated Battery Management System (BMS)
Jungheinrich's BMS continually monitors energy management on the vehicle's display (SOC), including the battery power recovery, to ensure safe consistent operation.
Interested in learning more about this Jungheinrich EJE 120 walkie pallet truck lithium-ion battery option? Contact a Fallsway forklift expert at 330-633-6000.
Edited: 4/10/19