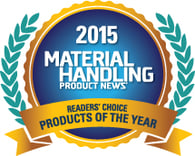 We would like to proudly recognize one of our products from Jungheinrich for being awarded the Reader's Choice "Product of the Year" by Material Handling Product News! The ETV C16/C20 moving mast reach truck series is a strong, reliable product that deserves the recognition for the top engineering put into making this innovative machine. Selected for its rapid acceleration, precise speed control, smooth directional changes and longer forklift operating times. It features Jungheinrich's advanced AC technology, allowing it to run longer on one battery charge.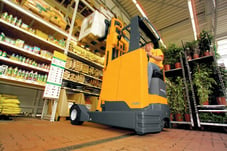 The Jungheinrich ETV C16/C20 has capabilities of reaching lift heights up to 24 feet high. It can transport heavy work loads of up to 4,400 pounds with ease in narrow work aisles. Jungheinrich's ETV is equipped standard with solid pneumatic tires and high ground clearance for indoor and outdoor use. Featuring SOLO-PILOT hydraulic control for smooth and sensitive operation. Also included with each machine is Curve Control for advanced stability during cornering to keep your operation safe! Take a look at a demonstration video of the ETV mast reach truck being operated on our YouTube channel!
Fallsway Equipment Company is a proud distributor of Jungheinrich's ETV series moving reach truck! For more information on these advanced material handling machines, contact us today for how this truck will work for your application.