Jungheinrich is adding a new narrow-aisle Kombi Stacker to their already extensive product array. The EKX 514-516 electric order picker and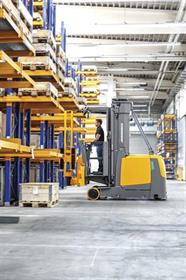 trilateral forklift has a capacity of 3,500 pounds and a lift height of 59 feet. This new model offers extreme versatility for order picking and stacking operations.
The new Kombi Stacker is loaded with state of the art control technologies, new motor technology and an efficient energy management system. This technology eliminates the need for extra batteries on a two-shift operation and cuts down on the requirements for charging stations and extra manpower. The new motor technology converts roughly 93% of the energy consumed into actual output, cutting energy losses by half, according to Steve Richmond, director of Jungheinrich's Systems and Projects Division.
The EKX 514-516 also features a patented vibration damping system.
"This system enables the user to travel more smoothly and up to 30% faster on substandard surfaces," Richmond said. "Narrow-aisle trucks can now work safely and efficiently on the floors that were originally designed solely for reach trucks – even at lift heights of over 32 feet."
More details about the Jungheinrich EKX 514-516 will be released at LogiMAT in March of 2016.
Have questions about Jungeinrich forklifts? Contact us or call 1-800-458-7941