Fallsway Equipment Company is proud to announce that we have partnered with Rightline Equipment Inc. We are now an authorized distributor of Rightline forklift attachments in Akron, Canton, Youngstown and surrounding areas.
Rightline Equipment designs and manufactures high quality forklift attachments to help better serve customers in the material handling industry. Rightline has been in business for over forty years and relies on three core principles: engineering excellence, precision production and genuine customer service.
They offer their customers a full range of product attachments, ranging from clamps and rotators to side shifters and fork positioners. In addition to the traditional add-ons, Rightline also offers unique designs to meet any customer needs. Some of their products include:
Carton Clamps
Carton clamps are recommended for pallet-less applications. The rubber-faced contact pads distribute clamping force evenly to insure a firm grip on the product and to prevent damage. These clamps are made out of unitized steel frames and combine high strength with a compact design.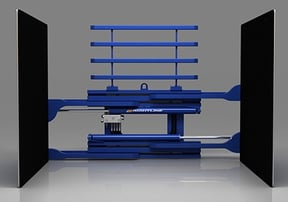 Fork Bar Rotators
Rightline offers a fork bar rotator that can be put on any standard lift truck. This 360-degree rotation attachment allows operators to invert the load for either dumping or refilling. These rotator attachments are commonly seen in agriculture, recycling, manufacturing and general industry.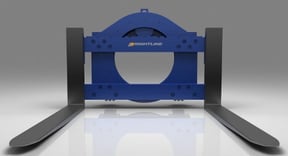 Fork Positioners
This attachment allows operators to move the forks back and forth with the touch of a lever. Fork positioners are commonly recommended for lift trucks that carry irregular load sizes and are manufactured with high quality components and a rugged durable design.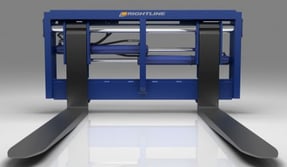 Have questions about Rightline attachments? Fallsway offers a variety of lift truck attachments for our Northeast Ohio customers. Featuring cascade attachments, rightline bale clamp, rightline gear, rightline carton clamp, right line single double attachments and much more!
Originally published 4/16/2015
Updated 5/28/2019