Fallsway Equipment Rentals is proud to offer over 300 forklift units and several man-up lift units for rent in the Akron, Canton, Youngstown, Mansfield and Marion, Ohio areas. We offer a wide selection of every type of forklift available, so you can operate as usual with as little downtime as possible. With the latest models from CAT, Mitsubishi, Jungheinrich, Kalmar, and Manitou, we have the correct forklift for your application.
Pneumatic Lift Trucks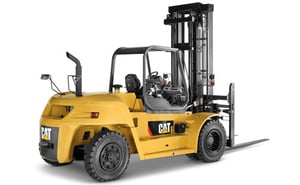 Designed primarily for outdoor applications where the operating surface is not smooth and may be uneven (e.g. hard packed gravel surface). These trucks utilize larger tires which can either be air filled (pneumatic) or pneumatic shaped solid rubber tires. It does not do well in soft materials such as sand, loose gravel or grassy areas.
Cushion Tire Fork Lifts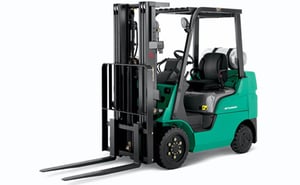 These trucks are typically used indoors in applications on hard finished surfaces. They ride on solid rubber tires (cushion tires). They can be powered by either Liquid Petroleum Gas (LPG), gasoline, diesel, or be dual fuel. Dual fuel means that the forklift is equipped with both LPG and Gas fuel systems and can be run on either one but not at the same time. Minimum aisle width needed is 10-14 feet with substantial floor capacity.
Walkie, Riders and Stackers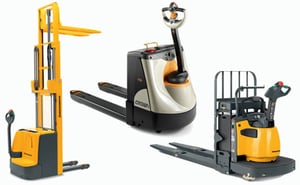 Electric pallet trucks come in several varieties – stackers, rider pallet jacks and walkie pallet jacks. Walkie jacks are electric and the operator walks behind the machine steering it via the handle. Walkies do not have as high a travel speed as a rider pallet jack. Rider pallet jacks have the option of the operator riding (standing) on the unit and traveling with it. Both walkie and rider jacks lift from ground level to approximately 9 inches.
Walkie stackers have an upright and lift to greater heights than pallet jacks. Once again, the operator walks behind the unit and steers it via the handle.
Stock Pickers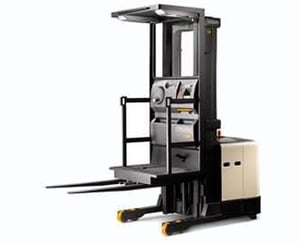 An order selector is also called an "orderpicker" or "stockpicker" man up forklift truck. This is because the operator actually rides up on the platform so that his feet are at the same height as the forks at any given time. This machine is used in warehouses to "pick orders". In other words, the operator will go up to the level that the product desired is stored and physically pull the items desired and place them on a pallet or platform that is sitting on the forks. Order pickers must always have a tether or lanyard attached on one end to the forklift and the other attached to a belt or harness on the operator. This type of forklift has outriggers which are the legs with smaller wheels on the front of the forklift. Minimum aisle width needed is approx. 4-6 feet.
Reach Trucks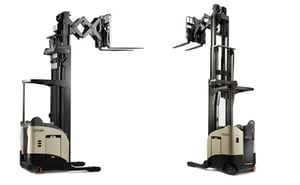 A narrow aisle forklift is designed to operate in warehouses. It is a stand-up forklift meaning that the operator is standing up while operating the machine. Its primary function is pulling and placing products on racks inside a warehouse. A narrow aisle forklift can operate in aisles between racking that is spaced closer together than the rack spacing required for a sit down rider. Minimum aisle width needed is 9.5 feet.
A narrow aisle reach truck is a forklift that works in a narrow aisle and uses a pantograph to extend the forks out from the upright. When extended, the forks are past the load wheels. There is also a double reach truck which has an additional segment in the pantograph which allows the forklift to pick and place loads two deep on pallet racking
Rough Terrain Forklifts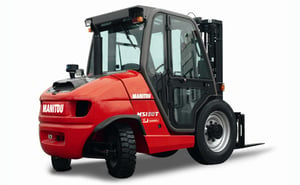 A rough terrain forklift is designed for carrying material over terrain that a normal pneumatic tired forklift will not. The most notable feature of the rough terrain forklift is the oversized, aggressive treaded tires. This enables the machine to traverse bumpy, soft or muddy terrain without getting stuck. Many models of rough terrain forklifts are also 4-wheel drive.
Telehandlers & Scissor Lifts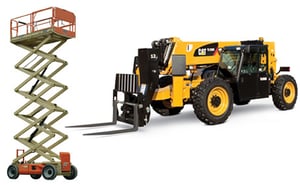 A telescopic handler, or telehandler, is a machine widely used in agriculture and industry. It is similar in appearance and function to a forklift but is more a crane than forklift, with the increased versatility of a single telescopic boom that can extend forwards and upwards from the vehicle. The most common attachment for a telehandler is pallet forks and the most common application is to move loads to and from places unreachable for a conventional forklift, such as rooftops.
Have questions about renting forklifts? Contact us or call 1-800-458-7941