Making an educated decision on when and why you should rent a forklift can help you improve your bottom line. Renting a forklift is a cost-effective way to expand your fleet, while not incurring a larger capital expense. Read on to learn how to maximize the benefits you can gain from a short-term rental.
Factors to Consider
Although renting a forklift on a short-term basis can cost more on a month-to-month basis vs leasing a forklift, it can still save your company money in the long run. Below we will cover reasons why short-term rentals could be the solution for your operation:
Buying a forklift is expensive, and your business may not want to incur that expense at this time.
Temporarily replace an essential forklift that is out for service for repairs.
Intermittent need to move heavier goods that require a higher capacity forklift.
Handle increases in operational demands due to seasonal business.
Maintain productivity while waiting for approval to purchase a new forklift.
Testing new models in your operation, a real-time solution to see what fits best.
Forklift Rental Costs Are Temporary
A temporary expenditure for a forklift rental provides your business with much greater flexibility in managing the budget. Not every business has the ability to spend money on a new or used lift. When your business is thinking of renting, consider the following:
Ultimate Flexibility: return an unneeded rental at any time to reduce expenses.
Low Up-Front Cost: free up capital for other needs.
Care Free Maintenance: Fallsway Equipment Company includes maintenance in our short-term rental rates.
Guaranteed Uptime: Fallsway Equipment Company delivers premium brands maintained to factory specifications.
How Much does it Cost to Rent a Forklift?
If you've never rented before, you may be surprised at the cost of forklift rentals and how affordable they can be. Statistics show that companies that own their fleets keep their forklifts beyond their economic life. We often see companies spending more money to keep the fleet running than the fleet is worth. A short-term upgrade can get you an industry-leading forklift at less cost.
Forklift Rental Agreements
If your intentions are to go beyond a short-term rental, consider contacting us first to make sure you get the most of your rental. We will discuss the weight and size of loads, required lift heights, surface and operating conditions, and any other needs your operation may require. Once we start narrowing down your needs, we can discuss any specifics such as:
The need for optional features, such as additional lights, attachments, or alarms.
For electric trucks you may need to review the battery charger requirements. Some forklift batteries require charges that must be hard-wired and may require a professional installation. If you wish to learn more about battery and charger details, contact us today to understand your options!
Establish the timeline of how long your rental agreement will be. Rental rates can be assessed differently and spelling out the time period can save you money by getting reduced long-term rates.
Understanding charges for overtime if a forklift will be used more than the typical 8-hour workday, 40-hour week, and 160-hour work month.
Understanding charges for damages and review process when you pick up and return the forklift.
Reviewing your insurance policy. You'll need to make sure your company's insurance covers temporary equipment, the operator, other people inside the facility, and the facility in case of an injury or property damage.
Equipment Available for Rent
Enjoy unmatched quality and selection when renting from Fallsway Equipment Company. Daily, weekly, and monthly rates are available for over 350 units, and with the youngest rental fleet in the area, you are guaranteed to find a piece of equipment that works for your operation.
Rental equipment includes:
Forklifts
Scissor Lifts
Boom Lifts
Order Pickers
Walkie Pallet Jacks
Warehouse Equipment
Telehandlers
Skid Steers
And much more!
Click here to view our inventory!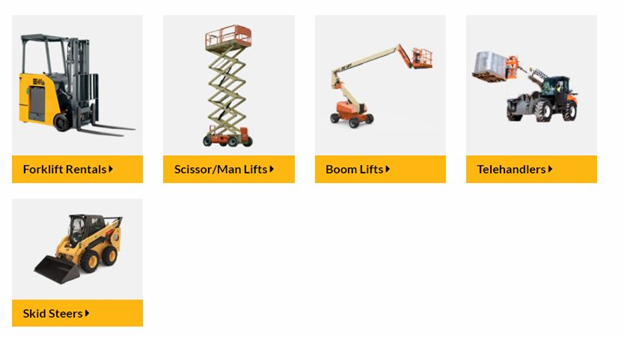 Browse the equipment above. Please call our rental team if you have any additional questions: (855)622-4379 or contact us via email here!