Below are seven tips we learned from some of our customers on how to improve material handling and efficiency. By following some of these tips you will notice an improvement in your workplace's efficiency, thus saving time and money!
1. LEAVE IT TO THE PRO'S FOR PUT-AWAY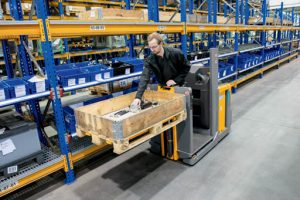 Don't assign new employees to put-away duties. An experienced driver in receiving will know the products and understand where things go.
Have the new employee start by filling orders. This will help them learn and understand the products, customers, and paperwork system.
2. KNOW THE TRUCK ARRIVAL SCHEDULE
Don't waste valuable time waiting in the yard and unwanted pressure on receivers and shippers.
If your truck arrival schedule is efficient, the fewer dock doors you will need to operate. This will save you money on utilities.
3. ASSIGN DIFFERENT SHIFTS FOR SHIPPING & RECEIVING
With an assigned shift to one task, you can reduce the staging area requirements by receiving goods during one shift and shipping during another.
4. SET A PACE FOR UNLOADING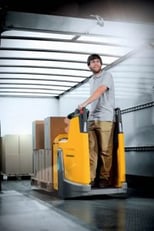 Trucks sitting around only cause congestion in the warehouse.
Measure how fast your team unloads a truck. Is there any room for improvement or anything that can be done differently to shave off time?
5. KEEP THE WAREHOUSE CLEAN
Don't let pieces of debris on the floor reduce your productivity. This will slow down operators in the workflow.
Check for cracks or uneven floor sections. These can cause serious damages to trucks and expensive down-times.
Floor defects can also lead to loads tipping and causing serious injury or damage to the product.
6. IMPROVE PACKING
Get packers complete orders so they don't waste time looking for missing items.
Do they have enough space? Observe them at work and make sure they're not bumping into each other or tripping over boxes.
Keep the workflow consistent so packing doesn't change between dead periods and rush hour activity. If there is a change, this could mean that the order picking process is not operating as effectively and needs further attention.
7. WHAT DO THE OPERATORS SAY?
Keep your operators up to date on new process improvements across the warehouse for improved efficiency
Ask your operators their opinion on how to improve a certain task that they perform around the warehouse.
Watch your best forklift operators to discover tricks they currently do. Use that operator to teach others on how to be efficient.
For more tips and tricks on how to improve your warehouse contact us at 330-633-6000 to speak to a warehouse specialist!