Hydraulic Edge-of-Dock Leveler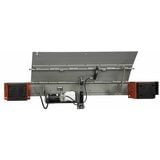 Name
Hydraulic Edge-of-Dock Leveler
Featured Image


Link
/hydraulic-edge-of-dock-leveler
Leveler Type
Hydraulic

Content

Fully hydraulic lip and deck cylinders with the push-button operation on the hydraulic edge-of-dock leveler. Designed for use in limited space applications, or when the full-size if not needed, enjoy a simple, economic alternative.

Fallsway sells, services, and supports NOVA Technology dock equipment in Ohio and the surrounding area. Contact us today for a quote or more information, our dock equipment specialists are happy to help!

Have a question? Contact us today!

Form

Meta Description
Hydraulic Edge-of-Dock Leveler | Ohio Dock Equipment | Fallsway Equipment Company
Downloads
Hydraulic Edge-of-Dock Leveler | NOVA Technology | Fallsway Equipment Company
Fully hydraulic lip and deck cylinders with the push-button operation on the hydraulic edge-of-dock leveler. Designed for use in limited space applications, or when the full-size if not needed, enjoy a simple, economic alternative.
Fallsway sells, services, and supports NOVA Technology dock equipment in Ohio and the surrounding area. Contact us today for a quote or more information, our dock equipment specialists are happy to help!
Have a question? Contact us today!
Equipment Information Request