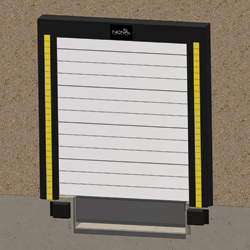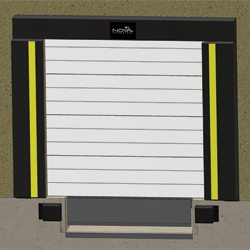 Along with Nova dock levelers and truck locks, Fallsway works with Nova Technology to provide dock seals with superior design and materials. Nova offers a broad range of seals and shelters to fit the needs of your facility for everything from vehicle type, weather conditions, door size, dock height and traffic, and driveway grade. Nova dock seals provide maximum energy savings, exceptional versatility and are extremely cost-effective.
These rugged seals are also designed to withstand heavy traffic, as well as:
Provide superior performance and weather resistance
Provide the best abrasion resistance, tear strength and service life of comparable fabrics at a more competitive price with NOVA's MAX-60™ fabric
Provide long life and excellent resiliency characteristics with high-density urethane foam
These seals also feature:
Select grade pressure treated kiln dried lumber
Shelters include steel support bumpers
Heavy duty galvanized mounting hardware
Seals feature brass grommets with spur washers for venting
Velcro® brand fasteners
All sew lines are backtracked with locked stitching
Heavy bonded polyester multifilament thread with a UV protectant
Whether you're in the beverage, paper product, commercial warehouse or distribution center business, or have another line of business that requires optimal protection against the elements when loading and unloading materials, Nova dock seals and shelters are a high-quality, versatile solution.
Fallsway provides Nova dock seals in Ohio, Michigan, Pennsylvania, Indiana, West Virginia, and Kentucky. To receive more information about Nova Truck Locks, contact us today!
Nova Dock Seals - Selection Chart
In selecting the right Nova dock seal for you and your company, check out the selection chart to determine which seal works with your dock width and height.
Nova Dock Seals and Shelters
Still not sold on why you should invest in a Nova dock seal? Check out the features, benefits, and applications for Nova seals and shelters.
Nova Dock Seals - FPH Series Specifications
If you are looking for a seal that can handle a trailer of practically any height, you need to invest in the FPH Series. For specifications, check out the FPH Series PDF.
Warehouse Equipment Information Request