Hydraulic Dock Leveler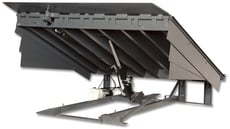 Name
Hydraulic Dock Leveler
Featured Image


Link
/hydraulic-dock-leveler
Leveler Type
Hydraulic

Content

The hydraulic option is the easiest dock leveler to use and operate, requiring a single push button to activate the hydraulic pump for operating the leveler platform and lip cylinders. Enjoy robust durability and performance, as well as unmatched safety features.

Fallsway proudly sells, services, and provides maintenance and parts for NOVA Technology hydraulic dock levelers in Ohio and the surrounding area. Loading dock equipment and products designed for reliability, strength, and safety. Contact us today for a quote or more information!

Have a question? Contact us today!

Form

Meta Description
Hydraulic Dock Levelers | Ohio, PA, & MI | Fallsway Equipment Company
Downloads
NOVA Hydraulic Powered Dock Leveler Brochure | Fallsway
The hydraulic option is the easiest dock leveler to use and operate, requiring a single push button to activate the hydraulic pump for operating the leveler platform and lip cylinders. Enjoy robust durability and performance, as well as unmatched safety features.
Fallsway proudly sells, services, and provides maintenance and parts for NOVA Technology hydraulic dock levelers in Ohio and the surrounding area. Loading dock equipment and products designed for reliability, strength, and safety. Contact us today for a quote or more information!
Have a question? Contact us today!
Equipment Information Request