Dock Shelters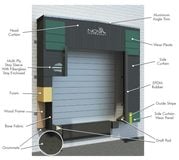 Name
Dock Shelters
Featured Image


Link
/dock-shelters
Content

Dock Shelters have a rigid frame equipped with curtains and are installed to the building wall. The curtains extend and seal against the wall and side of the truck. They are most suitable where walls are not designed to handle the high compression forces of traditional seals. With several different models, we are able to find the perfect fit for your facility.

Fallsway proudly represents NOVA Technology for dock shelters. Sales, service, and maintenance for all dock equipment in Ohio and the surrounding area, contact us today for a quote or more information.

Have a question? Contact us today!

Form

Meta Description
Energy savings, safety, productivity, and freight protection with dock shelters, customized to your specific needs. Serving Ohio and the surrounding area.
Downloads
NOVA Dock Shelter | Fallsway Equipment
Dock Shelters have a rigid frame equipped with curtains and are installed to the building wall. The curtains extend and seal against the wall and side of the truck. They are most suitable where walls are not designed to handle the high compression forces of traditional seals. With several different models, we are able to find the perfect fit for your facility.
Fallsway proudly represents NOVA Technology for dock shelters. Sales, service, and maintenance for all dock equipment in Ohio and the surrounding area, contact us today for a quote or more information.
Have a question? Contact us today!
Equipment Information Request