Kalmar Small Diesel Pneumatic Forklift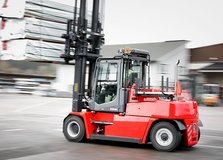 Name
Kalmar Small Diesel Pneumatic Forklift
Featured Image


Link
/kalmar-dcg-50-90
Fuel Type
Diesel

Application
Rough Terrain
Indoor & Outdoor

Tires
Pneumatic

Lift Capacity
12,001 - 15,000
15,001 - 20,000
10,001 - 12,000

Brand
Kalmar

Content

The DCG50-90 range of forklifts, ranging from 5 to 9-ton capacities, live up to the reputation that Kalmar is known for. Your forklift should be able to handle your operation and application, shift after shift, without having any mechanical or technical problems. Enjoy a forklift that is customized to your needs and tailored for your production, which is why 87% of people who buy say they would re-purchase. Skip all the sales talk and obscure jargon, if you are looking for a forklift with lifting capacity between 10,000lbs and 18,000lbs that will increase your productivity and the lowest possible total cost of ownership, look no further than the Kalmar DCG50-90.

Tailored solutions catered to your specific needs!

Have a question? Contact us today!

Form

Meta Description
The Kalmar DCG50-90 is a 5-9 ton capacity diesel forklift designed to lower your overall cost of ownership while increasing productivity. Sales, Service, Support from Fallsway.
Downloads
Kalmar DCG50-90 5-9 ton capacity diesel Forklift Brochure
The DCG50-90 range of forklifts, ranging from 5 to 9-ton capacities, live up to the reputation that Kalmar is known for. Your forklift should be able to handle your operation and application, shift after shift, without having any mechanical or technical problems. Enjoy a forklift that is customized to your needs and tailored for your production, which is why 87% of people who buy say they would re-purchase. Skip all the sales talk and obscure jargon, if you are looking for a forklift with lifting capacity between 10,000lbs and 18,000lbs that will increase your productivity and the lowest possible total cost of ownership, look no further than the Kalmar DCG50-90.
Tailored solutions catered to your specific needs!
Have a question? Contact us today!
Equipment Information Request