Jerr-Dan 25-Ton JFB Integrated Wrecker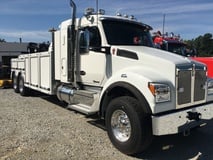 Name
Jerr-Dan 25-Ton JFB Integrated Wrecker
Featured Image


Link
/jerr-dan-25-ton-jfb-integrated-wrecker
Condition
New
Duty
Heavy-Duty

Towing Capacity
25 tons

Material
Aluminum
Steel

Content

Available in tandem body configurations, it boasts a 50,000 lb. two-stage wrecker boom with dual 25,000 lb. planetary winches and 200′ of 5/8″ diameter cable per winch and a 28,000 lb. underlift. If you are looking for a towtruck that is reliable and hard-working as your operation, look no further than Jerr-Dan and the 25-Ton JFB integrated wrecker.

Serving Ohio, Michigan, Pennsylvania, Indiana, Kentucky, West Virginia, and the surrounding areas, Fallsway provides unmatched quality when it comes to products and support. Contact Fallsway today with all your Towing and Recovery needs!

Have a question? Contact us today!

Form

Meta Description
Jerr - Dan 25-Ton JFB Integrated Wrecker
Downloads
Spec Sheet
Available in tandem body configurations, it boasts a 50,000 lb. two-stage wrecker boom with dual 25,000 lb. planetary winches and 200′ of 5/8″ diameter cable per winch and a 28,000 lb. underlift. If you are looking for a towtruck that is reliable and hard-working as your operation, look no further than Jerr-Dan and the 25-Ton JFB integrated wrecker.
Serving Ohio, Michigan, Pennsylvania, Indiana, Kentucky, West Virginia, and the surrounding areas, Fallsway provides unmatched quality when it comes to products and support. Contact Fallsway today with all your Towing and Recovery needs!
Have a question? Contact us today!
Equipment Information Request