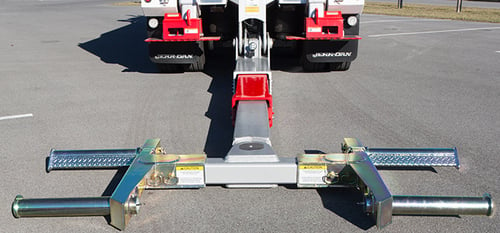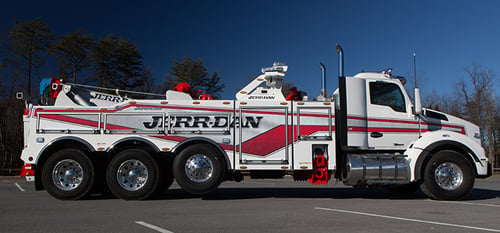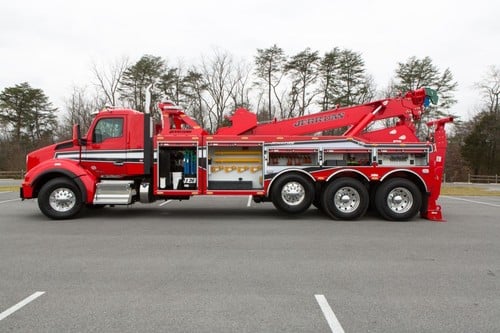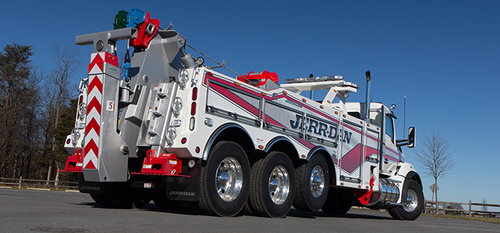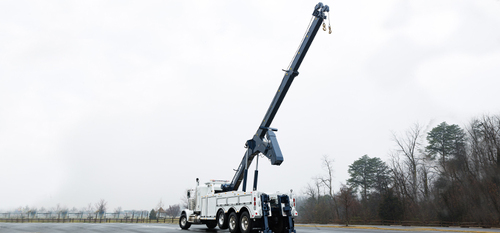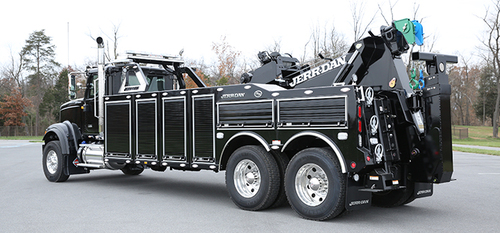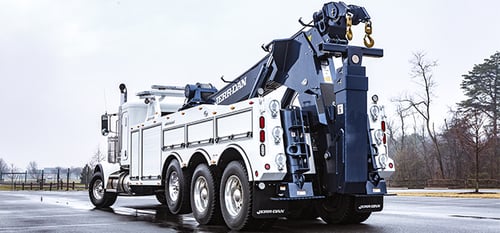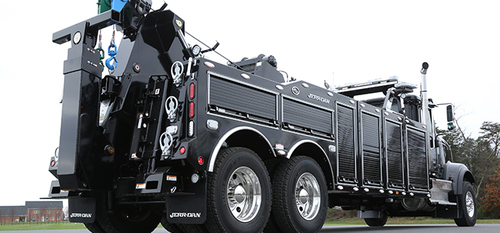 ---
Fallsway Equipment is one of the largest suppliers of Jerr-Dan Heavy-duty wreckers in trucks in Ohio, Michigan, and Pennsylvania. Fallsway design, install and paint units to customer specifications at our state-of-the-art Akron facility. We stock an extensive inventory of Jerr-Dan wreckers and components.
Fallsway Equipment offers a heavy-duty wrecker capable of transporting anything up to 50 tons. Engineered to provide you with supreme power, stability, and versatility to get the job done in a variety of applications. If you are looking for Heavy Duty Wreckers for sale, look no further than Fallsway Equipment Company.
25-TON JFB INTEGRATED HEAVY DUTY WRECKER
This heavy-duty wrecker from Jerr-Dan provides you with a 50,000 lbs two-stage wrecker boom with dual 25,000 lbs planetary winches. The JFB is weather-tight, low maintenance, and highly impact-resistant because of its polypropylene co-polymer assembled body.
Key Features include:
Roll-up storage doors.
Boom, winch, and underlift control access from both sides.
Independent isolated body design flexes with chassis movement to reduce wear.
Advanced LED lighting kit.
Read more about the 25-Ton JFB Integrated heavy-duty wrecker here.
35-TON JFB INTEGRATED HEAVY DUTY WRECKER
The heavy-duty wrecker from Jerr-Dan offers unmatched performance, capable of hauling up to 70,000 lbs. With its innovative design, this truck offers great tool storage and unmatched performance like any other 35-ton wrecker. Get whatever heavy duty tasks completed with the fabricated boom and underlift's high strength. Boasting an interchangeable tool compartment for the users choice in optimizing the wrecker to their needs!
Key Features Include:
Rotator-Style Control Stations LED compartment lighting
LED work lighting
Tilt Down Trays
Power Distribution Center
Recovery rigging storage
Poly Tire Lift Organizer
Adjustable Shelving
Life Attachment Storage
Read more about the 35-Ton JFB Integrated heavy-duty wrecker here.
50-TON JFB INTEGRATED AND INDEPENDENT HEAVY DUTY WRECKER
This heavy-duty wrecker from Jerr-Dan allows you to lift more with its 100,000 lbs hauling capacity. Life more and reach farther with the 50-ton JFB wrecker, offering this unit with a 2-stage or a 3-stage recovery boom, unmatched in reach and capacity compared to the competition. This wrecker offers the best in class performance, whether its handling standard lifts or tasking complicated rollovers. Get more out of our wreckers with the Jerr-Dan's outmatched performance on the 50-ton JFB heavy-duty wrecker.
Key Features Include:
Poly Tire Lift Organizer
Power Distribution Center
Tilt Down Trays
Recovery Rigging Storage
Rotator-Style Control Stations
Chain Carousel Oil Dry Silo
LED Work Lighting
Lift Attachment Storage
Adjustable Shelving
Read more about the 50-Ton JFB Integrated/Independent heavy-duty wrecker here.
---
Looking for medium duty wreckers? Click here. Are you looking for Standard Duty Wreckers? Click here. For more information about our Jerr-Dan Heavy Duty Wrecker options contact us at (855)-662-4379
Truck Equipment Information Request