ESE 220/320 Sit-On Low-Lift Pallet Truck
ESE 220/320 Sit-On Low-Lift Pallet Truck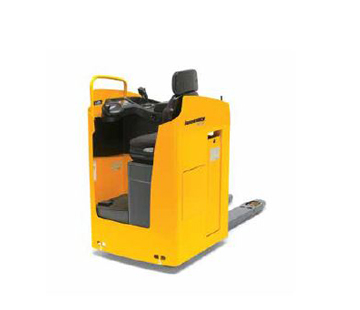 SAFE AND COMFORTABLE
The ESE is ideal for horizontal transportation over medium to long distances. The arrangement of the operator work-station, sideways to the direction of travel, reduces potential neck discomfort due to frequent changes in direction.
GREAT VISIBILITY FOR GOOD DRIVING
These models offer great all-around visibility and relaxed working conditions. This is a great advantage, especially where frequent changes of direction are required.
GREATER THROUGHPUT
Comfortable seat with adjustment for body weight, padded armrest, and padded knee area are standard. Since this provides comfort, there is a significant increase in throughput.
EVEN EASIER STEERING
The central position of the operator within the enclosed truck means they are well positioned and have great visibility. The easy-to-operate electric steering and the easily accessible controls provide additional comfort, such as drive and lift control via multifunction lever
THE RIGHT SPEED FOR EVERY APPLICATION
Safe speed regulation with Speed Control. Speed Control reduces risk and helps with effortless control.
Roll-back protection on gradients with automatically activated brake.

Constant travel speed on gradients / descents.

Energy recovery with regenerative braking.

Particularly smooth step-less operation.
Contact us with questions about Jungheinrich Walkie Pallet Trucks, or give us a call toll-free at (855)-622-4379.
Forklift Equipment Information Request