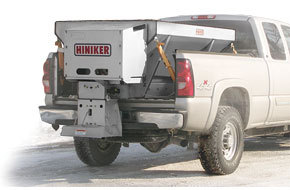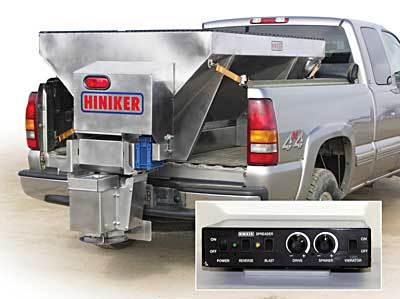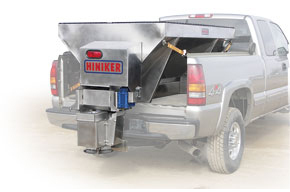 Fallsway Equipment offers salt spreaders from Hiniker, Smith, SnowEx, and Swenson in Ohio Michigan and Pennsylvania.
Hiniker salt spreaders are built with the operator in mind, offering multiple solutions for any spreading needs. With adjustable deflectors for a customized spread pattern, Hiniker spreads correctly the first time around. Designed to keep running through the harshest of environments, Hiniker spreads will keep working and will get the job done.
Smith manufacturers a wide variety of salt spreader products designed specifically to meet the many needs of our customers. Smith salt spreaders are built with efficiency in mind. Their innovative designs and exceptional quality engineering provide operators with a high-performance experience.
SnowEx has been a leader in snow and ice control since 1993. A combination of experience, versatility, dependability, and support keeps SnowEx the foremost experts in sand and salt spreaders. SnowEx, the authority in ice control, has a full line of salt spreaders, sand spreaders, de-icing sprayers and snow brooms with capacities to meet any size and need. Whether you are looking for walk-behind spreaders for personal use, tailgate spreaders for county-wide purposes, or anything in-between, SnowEx has the perfect sand and salt spreader for you.
Swenson salt spreaders are dedicated to providing custom and highly reliable snow and ice control systems. Swenson has been a leader in the snow and ice control industry for 70 years.
Contact us today for more information on salt spreaders from Fallsway.
---
Hiniker Salt Spreaders:
Hiniker OHV Gas Engine Spreaders
This salt spreader features a 25 feet widespread pattern and a 1.5 or 1.8-yard capacity so you can be more productive.
Hiniker Dual-Motor Electric Spreaders
The electric salt spreader offers variable speed control for both the conveyor and spinner and features electric motors for quiet operation in residential and office areas. Plus you don't have to spend time refueling!
Truck Equipment Information Request