Waltco Service Body Liftgates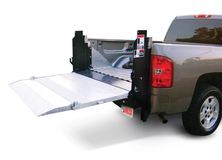 Name
Waltco Service Body Liftgates
Featured Image


Link
/waltco-service-body-liftgates
Make
Waltco

Gate Type
Pickup & Service Body Gates
Content

Waltco PTN and SB Series RAILGates

PTN Series: Designed for pick-up trucks and cargo vans. The strongest liftgate available for transporting bulky, top-heavy loads. 1,250 and 1,600 lb. lifting capacities.

SB Series: Designed for service bodies. Transforms your service body into a multi-purpose vehicle capable of tackling any operation.

Fallsway upfits Waltco Service Body Liftgates to your specific needs at our state-of-the-art truck equipment facility in Akron, Ohio. Serving Ohio, Michigan, Pennsylvania, and Kentucky, take advantage of our industry-leading knowledge and resources. We look forward to working with you!

Have a question? Contact us today!

Form

Meta Description
Waltco | The Strongest, Most Durable Liftgate for Transporting Bulky, Top-Heavy Loads.
Downloads
PTN Brochure
SB Brochure
Waltco PTN and SB Series RAILGates
PTN Series: Designed for pick-up trucks and cargo vans. The strongest liftgate available for transporting bulky, top-heavy loads. 1,250 and 1,600 lb. lifting capacities.
SB Series: Designed for service bodies. Transforms your service body into a multi-purpose vehicle capable of tackling any operation.
Fallsway upfits Waltco Service Body Liftgates to your specific needs at our state-of-the-art truck equipment facility in Akron, Ohio. Serving Ohio, Michigan, Pennsylvania, and Kentucky, take advantage of our industry-leading knowledge and resources. We look forward to working with you!
Have a question? Contact us today!
Equipment Information Request