Reading Tool Pro Enclosed Body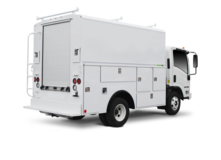 Name
Reading Tool Pro Enclosed Body
Featured Image


Link
/tool-pro-enclosed-body
Duty
Standard-Duty

Material
Aluminum

Body Type
Enclosed

Content

In need of a Tool Pro Enclosed Body? Well look no further than Fallsway Equipment.

Featuring a heavy-duty aluminum and zinc phosphate bath for the most durable corrosion-resistant finish available anywhere.

Easily access rear interior load space and forward side compartments on both sides of the body.

All roll-up doors will be keyed alike, and work in conjunction with LatchMatic keyless entry systems.

For more information contact Fallsway Equipment today!

Form

Meta Description
In need of a Reading Tool Pro service body? Contact Fallsway Equipment today! Customized to your specific needs.
Downloads
Tool Pro Spec Sheet
In need of a Tool Pro Enclosed Body? Well look no further than Fallsway Equipment.
Featuring a heavy-duty aluminum and zinc phosphate bath for the most durable corrosion-resistant finish available anywhere.
Easily access rear interior load space and forward side compartments on both sides of the body.
All roll-up doors will be keyed alike, and work in conjunction with LatchMatic keyless entry systems.
For more information contact Fallsway Equipment today!
Equipment Information Request