Ready Van SL Enclosed Body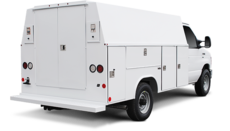 Name
Ready Van SL Enclosed Body
Featured Image


Link
/ready-van-sl-enclosed-body
Duty
Heavy-Duty

Material
Steel

Body Type
Enclosed

Content

The Ready Van SL is made from heavy-duty galvannealed steel and offers a spacious enclosed workspace with convenient outside storage compartments.

Featuring an interior sliding bulkhead door for cab access.

Exterior compartments offer superior protection against weather and theft.

High-security hinges and strongest doors in the industry.

Contact Fallsway Equipment today for more information.

Form

Meta Description
Looking for a Ready Van SL ? Fallsway Equipment has you covered.
Downloads
Ready Van SL Spec Sheet
The Ready Van SL is made from heavy-duty galvannealed steel and offers a spacious enclosed workspace with convenient outside storage compartments.
Featuring an interior sliding bulkhead door for cab access.
Exterior compartments offer superior protection against weather and theft.
High-security hinges and strongest doors in the industry.
Contact Fallsway Equipment today for more information.
Equipment Information Request