Reading Classic Service Van Enclosed Body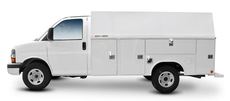 Name
Reading Classic Service Van Enclosed Body
Featured Image


Link
/reading-classic-service-van-enclosed-body
Duty
Standard-Duty

Material
Aluminum

Body Type
Enclosed

Content

The Classic Service Van from Reading is an enclosed service body made exclusively from recycled aluminum. Available in 57", 72", and 75" options, these dynamic commercial service vans are great for every application; construction, general contracting, landscaping, Telecomm, HVAC, utility, and much more! Maximize productivity and equip yourself with a work vehicle that will last.

Just like Reading, Fallsway has been in business since 1959 and takes pride in exceeding your expectations and providing solutions. Only offering products that live up to our incredibly high expectations, our Solution Providers are armed with the knowledge and experience to find the perfect fit for your fleet and operation and upfit a commercial work vehicle to your specific needs. Located in Akron, Ohio, serving Ohio, Michigan, and Pennsylvania, learn more about the Reading Classic Service Van and Fallsway by contacting us today!

Have a question? Contact us today!

Form

Meta Description
The Reading Enclosed Aluminum Service Body is a green alternative that reduces fuel consumption up to 10%! Serving Ohio, Michigan, and Pennsylvania
Downloads
Reading Classic Enclosed Service Van Brochure
The Classic Service Van from Reading is an enclosed service body made exclusively from recycled aluminum. Available in 57", 72", and 75" options, these dynamic commercial service vans are great for every application; construction, general contracting, landscaping, Telecomm, HVAC, utility, and much more! Maximize productivity and equip yourself with a work vehicle that will last.
Just like Reading, Fallsway has been in business since 1959 and takes pride in exceeding your expectations and providing solutions. Only offering products that live up to our incredibly high expectations, our Solution Providers are armed with the knowledge and experience to find the perfect fit for your fleet and operation and upfit a commercial work vehicle to your specific needs. Located in Akron, Ohio, serving Ohio, Michigan, and Pennsylvania, learn more about the Reading Classic Service Van and Fallsway by contacting us today!
Have a question? Contact us today!
Equipment Information Request