Reading 100-Series HD Service Body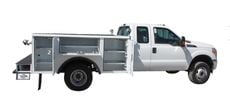 Name
Reading 100-Series HD Service Body
Featured Image


Link
/reading-100-series-hd-service-body
Duty
Heavy-Duty

Material
Steel

Body Type
Open

Content

Do you have an application that requires a stronger, heavier duty work truck? The Reading 100-Series heavy-duty service body is designed to perform in the toughest conditions. Enjoy superior features, at a competitive price, guaranteeing you the overall best value.

Recommended for a Class III Chassis (ex. Ford F-350, Chevy 3500HD, Ram 3500, etc)

All truck equipment is installed and modified (lighting, compartments, accessories, etc) in Ohio, where we proudly serve.

Have a question? Contact us today!

Form

Meta Description
Superior Features, Competitive Pricing, Best Value. 100-Series Master Mechanic Heavy-duty service bodies from Reading, upfit by Fallsway.
Downloads

Reading 100-Series Heavy-Duty Service Body | Fallsway

Master Mechanic Series from Reading | Fallsway Equipment Company
Do you have an application that requires a stronger, heavier duty work truck? The Reading 100-Series heavy-duty service body is designed to perform in the toughest conditions. Enjoy superior features, at a competitive price, guaranteeing you the overall best value.
Recommended for a Class III Chassis (ex. Ford F-350, Chevy 3500HD, Ram 3500, etc)
All truck equipment is installed and modified (lighting, compartments, accessories, etc) in Ohio, where we proudly serve.
Have a question? Contact us today!
Equipment Information Request