Manitex Trolley Boom Trucks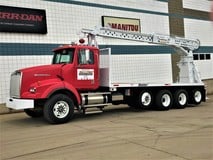 Name
Manitex Trolley Boom Trucks
Featured Image


Link
/manitex-trolley-boom-trucks
Make
Manitex

Boom Type
Trolley Boom

Content

Manitex provides you with the quality, longevity, and safety you need from a truck-mounted trolley boom unloader crane. Replacing USTC and USTB cranes, Manitex offers state-of-the-art lifting solutions, transporting and unloading concrete, lumber, or any other materials to the job site with ease.

Manitex provides two different trolley boom designs based on your need and application, the 110 Series, and the PC20. Learn more here!

Fallsway proudly sells, services, and provides parts and support for Manitex across the entire United States. All outfitting and service is done at our Akron, Ohio headquarters.

Have a question? Contact us today!

Form

Meta Description
Truck mounted trolley boom cranes from Manitex are built for performance, longevity, and safety. Upfit by Fallsway Equipment Company.
Downloads
Manitex Truck Mounted Trolley Boom Cranes | Fallsway
Manitex provides you with the quality, longevity, and safety you need from a truck-mounted trolley boom unloader crane. Replacing USTC and USTB cranes, Manitex offers state-of-the-art lifting solutions, transporting and unloading concrete, lumber, or any other materials to the job site with ease.
Manitex provides two different trolley boom designs based on your need and application, the 110 Series, and the PC20. Learn more here!
Fallsway proudly sells, services, and provides parts and support for Manitex across the entire United States. All outfitting and service is done at our Akron, Ohio headquarters.
Have a question? Contact us today!
Equipment Information Request