Jerr-Dan 8.5 Ton XLP Carrier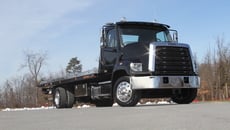 Name
Jerr-Dan 8.5 Ton XLP Carrier
Featured Image


Link
/jerr-dan-8-5-ton-xlp-carrier
Condition
New
Towing Capacity
8 tons

Material
Steel

Content

The Jerr-Dan 8.5 Ton XLP

The 8.5 Ton XLP provides a lower deck height for transporting taller loads that would otherwise be over height on a standard height deck. The lower deck height makes tying down a load easier from the ground. The 8.5 Ton XLP also provides additional capacity and deck length.

Available for Purchase or Rent!

Have a question? Contact us today!

Form

Meta Description
Jerr-Dan 6 Ton Steel XLP
The Jerr-Dan 8.5 Ton XLP
The 8.5 Ton XLP provides a lower deck height for transporting taller loads that would otherwise be over height on a standard height deck. The lower deck height makes tying down a load easier from the ground. The 8.5 Ton XLP also provides additional capacity and deck length.
Available for Purchase or Rent!
Have a question? Contact us today!
Equipment Information Request