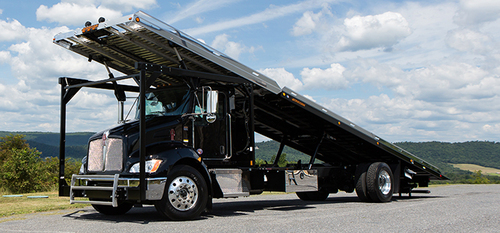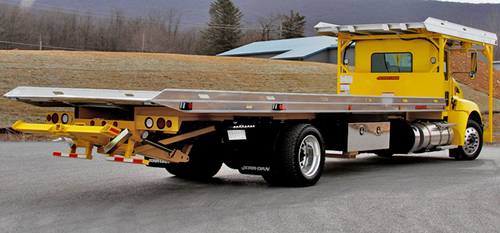 Fallsway Equipment is one of the largest suppliers of Jerr-Dan rollbacks in trucks in Ohio, Michigan, and Pennsylvania. Fallsway design, install, and paint units to customer specifications at our state-of-the-art Akron facility. We stock an extensive inventory of Jerr-Dan wreckers and components.
Fallsway offers multi-car carriers from Jerr-Dan, capable of transporting up to 4 cars. These multi-car carriers give you the versatility to take on more carloads to maximize your time and profits!
3 & 4 Multi-Car Carrier
Looking for something capable of hauling multiple cars with ease? Jerr-Dan offers up a 3 & 4 Multi-Carrier Rollback capable of delivering excellent hauling value to your business. With the multiple key slots combined with the optional wheel lift system, transport up to 4 cars saving time. The multi-car carriers have an impressive load/unload angle, upper-deck cut-outs, and a three-rung step ladder, which allows for easy access to the upper-deck hold-down straps.
Key Features Include:
Low Profile WInch System
3- RUng Foldaway Step Ladder on The Front Structure
Dual Remote winch Release Mounted Under-Deck
Aluminum Upper Deck
And More...
Want to learn more about the 3&4 Multi-Car Carriers? Click here for more details.
Questions? Contact us!
Truck Equipment Information Request